WIN A WORKPLACE WINDOWN SHOUT WITH MAINLANDS ALL NEW CHEESE AND ARTISAN CRACKERS!
Publish Date

Monday, 2 November 2020, 6:00AM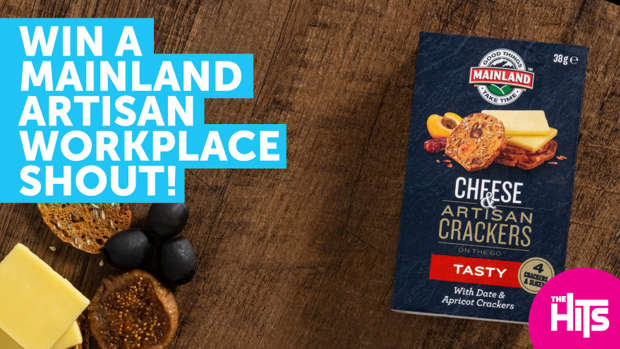 Mainland has a new Cheese and Artisan Cracker Range – and at the Hits, we have your chance to try it.
By the time Friday rolls around, we know you are in need of a treat to wind down the week! We've teamed up with Mainland to do just that!
The good folks at Mainland have been busy making you a tasty snack – New Zealand's favourite cheese now perfectly paired with artisan crackers. We all know good things take time, but for those of you that are short of it, here's a deliciously filling snack on-the-go,  and we have your chance to win!
Register your workplace down below to be into win a workplace wind down shout.
If you are a lucky winner, The Hits Street Team will head out your workplace with a Mainland artisan cheese showcasing Mainland's delicious new range and to make your Friday that much better!
Available in two variants – Mainland Tasty cheese slices with date and apricot crackers, and Mainland Colby cheese slices with fig and black olive crackers. These crackers are baked in small batches, meaning crispness and quality with every bite.
Register below to be into win!