The Hits Chosen One with Mark Cromie Motor Group
Publish Date

Monday, 12 July 2021, 9:30AM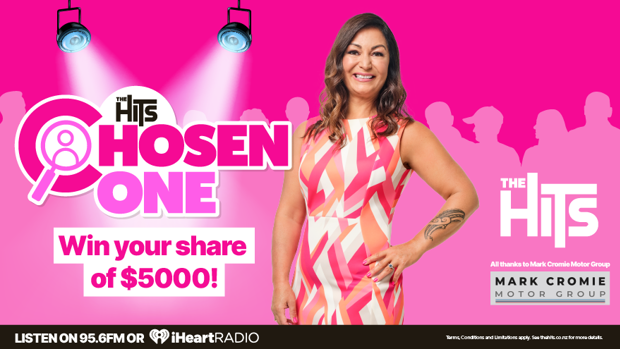 Imagine a competition where you've already won...
You just don't know it yet..
The Hits Chosen One is here all thanks to Mark Cromie Motor Group.
This is your chance to win your share of $5000 cash just by being our chosen on of the day.

Register your details below and listen out for the first clue on Monday 19th of July at 7:40am with Jono and Ben, if the clue matches up with something about yourself - call 0800 THE HITS when you hear the cue to call from 9am and you will $1000 cash if you are our chosen one, simple!
If you aren't our chosen one, the next clue will be out at 10am - matches up with you? Call Char after 11am for another chance to win and if you are our chosen one - $500 cash is all yours.
If our chosen one isn't found again, the next clue goes out at 12pm with your chance to call and win $250 
Then the best part, we do it all again the next day until The Hits Chosen One is found!
Register below for your chance to be a part of The Hits Chosen One all thanks to Mark Cromie Motor Group - Northlands leading car dealership specialising in Nissan, Hyundai, Volkswagen, Isuzu and Renault.
Located at 50 Port Road, Whangarei
Check out the terms and conditions here