NOW That's What I Call A Countdown: Full list
Publish Date

Friday, 2 November 2018, 6:00PM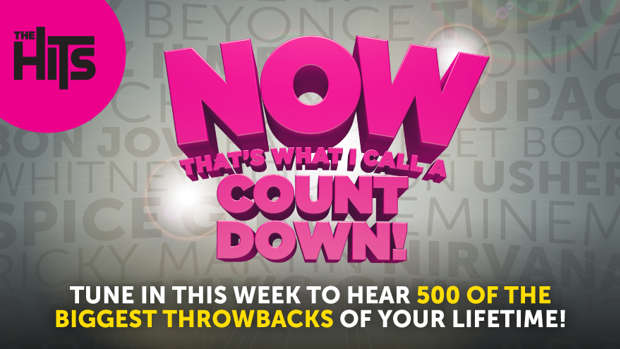 At The Hits, we love playing all the bangers from the 80s, 90s, 00s and Today! 
There are so many great tuuuuuunnnes and sometimes we just can't agree on what to play, so we wanted to know what were your favourite throwbacks!
After thousands of votes, we counted down the top 500 throwbacks.
If you missed the countdown, check out the full list here:
| | | |
| --- | --- | --- |
| 500 | Color Me Badd | I Wanna Sex You Up |
| 499 | Frente! | Accidently Kelly Street |
| 498 | Starship | We Built This City |
| 497 | Lighthouse family | High |
| 496 | Jimmy Eat World | The Middle |
| 495 | Simply Red | Stars |
| 494 | Vengaboys | Boom Boom Boom |
| 493 | Jesus Jones | Right Here, Right Now |
| 492 | Avril Lavigne | sk8er boi |
| 491 | Jon Secada | Just Another Day |
| 490 | N Sync | I Want You Back |
| 489 | Phil Collins/Philip Bailey | Easy Lover |
| 488 | Shania Twain | From the Moment On |
| 487 | Southside of Bombay | What's the Time Mr. Wolf |
| 486 | Toni Braxton | Breath Again |
| 485 | Green Day | American Idiot |
| 484 | Savage Garden | I Knew I Loved You |
| 483 | Ace of Base | All that She Wants |
| 482 | Beds are Burning | Midnight Oil |
| 481 | I Don't Want to wait | Paula Cole |
| 480 | Sophie B Hawkins | Damn, I Wish I was Your lover |
| 479 | Supergroove | You Gotta Know |
| 478 | Destiny's Child | Independent Woman |
| 477 | Boyzone | No Matter What |
| 476 | Unique II | Break My Stride |
| 475 | Soft Cell | Tainted Love |
| 474 | Wet Wet Wet | Love is All Around |
| 473 | Joan Osborne | One of Us |
| 472 | Gnarls Barkley | Crazy |
| 471 | Cranberries | Linger |
| 470 | EMF | Unbelievable |
| 469 | Collective Soul | The World I Know |
| 468 | Madonna | Into the Groove |
| 467 | Ini Kamoze | Here Comes the Hotstepper |
| 466 | Incubus | Drive |
| 465 | Enrique Iglesias | Bailamos |
| 464 | Heart | All I Want to do is Make Love to You |
| 463 | Hootie & the Blowfish | Hold my Hand |
| 462 | Jimmy Nail | Ain't No Doubt |
| 461 | B52's | Roam |
| 460 | Nsync | Bye Bye Bye |
| 459 | Alanis Morrisette | You learn |
| 458 | Brandy & Monica | The Boy is Mine |
| 457 | Counting Crows | Mr. Jones |
| 456 | Eiffel 65 | Blue (Da Ba Dee) |
| 455 | Sugar Ray | Every Morning |
| 454 | Texas | Say what You Want |
| 453 | Pet Shop Boys | West End Girls |
| 452 | Matchbox 20 | Push |
| 451 | Rihanna | SOS |
| 450 | Del Amitri | Roll to Me |
| 449 | George Michael | Too Funky |
| 448 | Evanescence  | Bring Me To Life  |
| 447 | Celine Dion | Power of Love |
| 446 | INXS | Need You Tonight |
| 445 | LFO | Summer Girls |
| 444 | Spice Girls | Spice Up Your Life |
| 443 | Guns N Roses | Don't Cry |
| 442 | Britney Spears | Toxic |
| 441 | Take That | Back for Good |
| 440 | Fine Young Cannibals | She Drives Me Crazy |
| 439 | Hanson | Where's the Love |
| 438 | Semisonic | Closing Time |
| 437 | Londonbeat | I've Been Thinking Bout You |
| 436 | Go West | King of Wishful Thinking |
| 435 | Chumbawamba | Tubthumping |
| 434 | Mariah Carey featuring Jay-Z | Heartbreaker |
| 433 | Dido | Thank You |
| 432 | Rednex | Cotton Eye Joe |
| 431 | Peter Gabriel | Sledgehammer |
| 430 | Sonia Dada | You Don't Treat me No Good |
| 429 | Dario G | Sunchyme |
| 428 | Toploader | Dancing in the Moonlight |
| 427 | SOAP | This is How We Party |
| 426 | Hunters & Collectors | Holy Grail |
| 425 | Sixpence None the Richer | Kiss Me |
| 424 | Terence Trent D'Arby | Wishing Well |
| 423 | Faith no More | Easy |
| 422 | TLC | Creep |
| 421 | Katy Perry | Waking up in Vegas |
| 420 | Def Leppard | Pour Some Sugar on me |
| 419 | Sheryl Crow | Strong Enough |
| 418 | Right Said Fred | I'm Too Sexy |
| 417 | All Saints | Pure Shores |
| 416 | Foreigner | I Want to Know What Love is |
| 415 | Prince | Thieves in the Temple |
| 414 | Green Day | When I Come Around |
| 413 | Dee-Lite | Groove is in the Heart |
| 412 | Kylie Minogue | Can't Get You Out of My Head |
| 411 | Robert Palmer and UB40 | I'LL BE YOUR BABY TONIGHT |
| 410 | Mark Morrison | Return of the Mack |
| 409 | Jennifer Paige | Crush |
| 408 | Justin Timberlake | What Goes Around… Comes around |
| 407 | Red Hot Chili Peppers | Scar Tissue |
| 406 | Color Me Badd | All 4 Love |
| 405 | Bon jovi | Keep the Faith |
| 404 | Crowded House | Fall at Your feet |
| 403 | Pink | Don't Let Me Get Me |
| 402 | Eternal | I Wanna Be the Only One |
| 401 | Creed | With Arms Wide Open |
| 400 | Wang Chung | Dance Hall Days |
| 399 | Britney Spears | Sometimes |
| 398 | DJ Jazzy Jeff | Boom! Shake the Room |
| 397 | Lenny Kravitz | Are You Gonna Go My Way |
| 396 | Hollie Smith | Bathe in the River |
| 395 | Duran Duran | Ordinary World |
| 394 | Mariah Carey | Vision of Love |
| 393 | Violent Femmes | Blister in the Sun |
| 392 | Ce Ce Peniston | Finally |
| 391 | Seal | Crazy |
| 390 | Wheatus | Teenage Dirtbag |
| 389 | Savage Garden | To the Moon and Back |
| 388 | Shaggy | Boombastic |
| 387 | Alanis Morrisette | You Oughta Know |
| 386 | Coldplay | Viva La Vida |
| 385 | Celine Dion | Because You Loved Me |
| 384 | Diesel | Tip of My Tongue |
| 383 | UB40 | Red Red Wine |
| 382 | KLF | Justified & Ancient |
| 381 | R.E.M. | What's the Frequency Kenneth |
| 380 | S Club 7 | Don't Stop Movin' |
| 379 | Smash mouth | All Star |
| 378 | Alicia Bridges | I Love the Nightlife |
| 377 | Phil Collins | Against All Odds |
| 376 | Big Audio Dynamite | Rush |
| 375 | Aqua | Doctor Jones |
| 374 | Eurythmics | Thorn in My Side |
| 373 | Inner Circle | Games People Play |
| 372 | Michael Jackson | You Are Not Alone |
| 371 | Maroon 5 | Won't Go Home Without You |
| 370 | Ricky Martin | Livin La Vida Loca |
| 369 | Sophie B Hawkins | As I Lay Me Down |
| 368 | U2 | Everlasting Love |
| 367 | Madonna | Beautiful Stranger |
| 366 | Four Seasons | December '63 (1994) |
| 365 | Crazytown | Butterfly |
| 364 | Bryan Adams, Rod Stewart & Sting | All for Love |
| 363 | Bobby Brown | Humpin' Around |
| 362 | Bachelor Girl | Buses and Trains |
| 361 | Bon Jovi | Bad Medicine |
| 360 | Lady Ga Ga | Just Dance |
| 359 | C+C Music Factory | Things That Make You Go Hmmm.... |
| 358 | Guns N Roses | Knockin' on Heaven's Door |
| 357 | Jenny Morris | Break in the Weather |
| 356 | Run DMC vs Jason Nevins | It's Like That |
| 355 | Tears for Fears | Shout |
| 354 | Sister Hazel | All for You |
| 353 | Tracy Chapman | Give Me One reason |
| 352 | Five | Got the Feeling |
| 351 | Marky Mark & The Funky Bunch | Good Vibrations |
| 350 | Green Day | Boulevard of Broken Dreams |
| 349 | Boyz II Men | I'll make Love to You |
| 348 | Human League | Don't You Want Me |
| 347 | Corona | Rhythm of the Night |
| 346 | PM Dawn | Set Adrift on Memory Bliss |
| 345 | N Sync | It's Gonne Be Me |
| 344 | R.E.M. | Drive |
| 343 | No Doubt | Just a Girl |
| 342 | Michael Jackson | The Way You Make Me Feel |
| 341 | Supergroove | Can't get Enough |
| 340 | Kelly Clarkson | Since You Been Gone |
| 339 | Spice Girls | Who Do You Think You Are |
| 338 | Jennifer Lopez | If You Had My Love |
| 337 | Duran Duran | Girls on Film |
| 336 | Eric Clapton | Change the World |
| 335 | B Witched | C'est La Vie |
| 334 | Bryan Adams | Can't Stop this Thing We Started |
| 333 | Fergie | Big Girls Don't cry |
| 332 | Peter Andre | Mysterious Girl |
| 331 | Lutricia McNeal | Ain't That Just the Way |
| 330 | Mr. Mister | Broken Wings  |
| 329 | Cranberries | Dreams |
| 328 | Blackstreet | No Diggity |
| 327 | Uncle Kracker | Follow Me |
| 326 | Marcy Playground | Sex and Candy |
| 325 | Ginuwine | Pony |
| 324 | Christina Aguilera | Genie in a Bottle |
| 323 | Counting Crows/Vanessa Carlton | Big Yellow Taxi |
| 322 | Arrested Development | Mr. Wendal |
| 321 | Thompson Twins | Hold Me Now |
| 320 | Diana King | Shy Guy |
| 319 | Lenny Kravitz | It Ain't over Til it's Over |
| 318 | Roxette | Joyride |
| 317 | Nelly Furtado | Say it Right |
| 316 | Tom Petty | Learning to Fly |
| 315 | Red Hot Chili Peppers | Californication |
| 314 | Shania Twain | Man! I Feel Like a Woman |
| 313 | Backstreet Boys | All I have to Give |
| 312 | Talking Heads | Road to Nowhere |
| 311 | Janet Jackson | That's the Way Love goes |
| 310 | Robbie Williams | Rock DJ |
| 309 | Pretenders | I'll Stand By You |
| 308 | Will Smith | Getting' Jiggy Wit it |
| 307 | Donna Lewis | I Love You Always Forever |
| 306 | Snow | Informer |
| 305 | New Kids on the Block | Step By Step |
| 304 | Mariah Carey | Fantasy |
| 303 | Beck | Loser |
| 302 | Scissor Sisters | I Don't feel Like Dancing |
| 301 | Maxi Priest | Close to You |
| 300 | Luka | Suzanne Vega |
| 299 | Stardust | Music Sounds Better With you |
| 298 | Oasis | Don't Look back in Anger |
| 297 | Whitney Houston | I'm every Woman |
| 296 | Inner Circle | Bad  Boys |
| 295 | Justin Timberlake | Senorita  |
| 294 | Exponents | I'll Say Goodbye |
| 293 | Jimmy Cliff | I Can See Clearly |
| 292 | Pras Michael | Ghetto Superstar |
| 291 | Roxette | The Look |
| 290 | Ronan Keating | Lovin' Each Day |
| 289 | U2 | Sweetest Thing |
| 288 | Aqua | Turn back Time |
| 287 | Crash Test Dummies | MMM MMM MMM |
| 286 | Katrina & the Waves | Walking on Sunshine |
| 285 | OMC | How Bizzare |
| 284 | Eagle Eye Cherry | Save Tonight |
| 283 | Bob Sinclar | Love Generation |
| 282 | Prince | Diamonds and Pearls |
| 281 | Bodeans | Closer to Free |
| 280 | Paula Cole | Where Have All the Cowboys Gone |
| 279 | Reef | Place Your Hands |
| 278 | Adele | Chasing Pavements |
| 277 | Backstreet Boys | Quit Playing Games with My Heart |
| 276 | Shania Twain | That Don't Impress Me Much |
| 275 | Van Halen | Jump |
| 274 | Will Smith | Wild Wild West |
| 273 | MGMT | Electric Feel |
| 272 | Charles & Eddie | Would I Lie To You? |
| 271 | Gin Blossoms | Follow You Down |
| 270 | David Bowie | Modern Love |
| 269 | Amy Grant | Baby Baby |
| 268 | M People | Movin' on Up |
| 267 | No Doubt | Spiderwebs |
| 266 | Robbie Williams` | Strong |
| 265 | Kenny Loggins | Danger Zone |
| 264 | S Club 7 | S Club Party |
| 263 | Urge Overkill | Girl, You'll be a Woman Soon |
| 262 | LEN | Steal My Sunshine |
| 261 | Sugababes | Round Round |
| 260 | Phil Collins | I Wish it Would Rain Down |
| 259 | Letters to Cleo | I Want You to Want Me |
| 258 | Savage Garden | I Want You |
| 257 | Salt-N-Pepa | Let's Talk About Sex |
| 256 | OMD | If You Leave |
| 255 | Hootie & the Blowfish | Let Her Cry |
| 254 | 2Pac | California Love |
| 253 | Toni Braxton | Un-Break my Heart |
| 252 | Rembrandts | I'll Be There for You |
| 251 | Netherworld Dancing Toys | For Today |
| 250 | All-4-One | I Can Love You Like that |
| 249 | Real Mccoy | Another Night |
| 248 | Kid Rock | All Summer Long |
| 247 | C+C Music Factory | Gonna Make You Sweat |
| 246 | George Michael | Freedom '90 |
| 245 | Destiny's child | Say My Name |
| 244 | Bomfunk MCs | Freestyler |
| 243 | Midnight Oil | Blue Sky Mine |
| 242 | Annie Lennox | Walking on Broken Glass |
| 241 | Barenaked Ladies | One Week |
| 240 | Stars on 54 | If You Could Read My Mind |
| 239 | Deep Blue Something | Breakfast at Tiffany's |
| 238 | James Blunt | You're Beautiful |
| 237 | Five | If Ya Getting Down |
| 236 | Rick Astley | Never Gonna Give You Up |
| 235 | Muttonbirds | Dominion Road |
| 234 | Alicia Keys | No One |
| 233 | Guns N Roses | Live and Let Die |
| 232 | Mariah Carey | I'll be There |
| 231 | MC Hammer | U Can't Touch This |
| 230 | Pat Benatar | Hit Me With Your Best Shot |
| 229 | UB40 | Can't Help Falling in Love |
| 228 | Cher | Believe |
| 227 | Inner Circle | Sweat |
| 226 | Kings of Leon | Sex on Fire |
| 225 | Janet Jackson | Together Again |
| 224 | R Kelly | I Believe I Can Fly |
| 223 | Michael Jackson | Beat It |
| 222 | White Town | Your Woman |
| 221 | Mark Ronson/Amy Winehouse | Valerie |
| 220 | Ugly Kid Joe | Cat's in the Cradle |
| 219 | Spice Girls | Stop |
| 218 | Eurythmics | Here Comes the Rain Again |
| 217 | Arrested Development | People Everyday |
| 216 | Pink | Who Knew |
| 215 | Sir mix a Lot | Baby Got Back |
| 214 | Alanis Morrisette | Head Over Feet |
| 213 | Rockmelons | That Word (LOVE) |
| 212 | Good Charlotte | Dancefloor Anthem |
| 211 | Five | Keep on Movin' |
| 210 | Crowded House | Four Seasons in One Day |
| 209 | Meredith Brooks | Bitch |
| 208 | Robbie Williams | Millenium |
| 207 | Beyonce | Halo |
| 206 | Spin Doctors | Little Miss Can't be Wrong |
| 205 | Prince | Kiss |
| 204 | Cardigans | Lovefool |
| 203 | Kings of Leon | Use Somebody |
| 202 | Hanson | MMM Bop |
| 201 | Britney Spears | (You Drive Me) Crazy |
| 200 | 50 Cent | In Da Club |
| 199 | Tal Bachman | She's So High |
| 198 | Cyndi Lauper | Time After Time |
| 197 | Muttonbirds | Nature |
| 196 | Aqua | Barbie Girl |
| 195 | Bruce Springsteen | Streets of Philadelphia |
| 194 | Jennifer Lopez | Waiting for Tonight |
| 193 | R.E.M. | Everybody Hurts |
| 192 | Avril Lavigne | Complicated |
| 191 | DJ Jazzy Jeff | Summertime |
| 190 | Billy Joel | The River of dreams |
| 189 | Sheryl Crow | All I Wanna Do |
| 188 | Green Day | Time of Your Life |
| 187 | S Club 7 | Bring it All Back |
| 186 | Robbie Williams | She's the One |
| 185 | U2 | Pride (in the Name of Love) |
| 184 | Gwen Stefani | Hollaback Girl |
| 183 | Five | Everybody Get Up |
| 182 | All Saints | Never Ever |
| 181 | Huey Lewis & the News | Power of Love |
| 180 | Lauryn Hill | doo Wop (that Thing) |
| 179 | Big Mountain | Baby, I Love Your Way |
| 178 | Black Eyed Peas | Let's Get it Started |
| 177 | Annie Crummer | See What Love Can Do |
| 176 | Pearl Jam | Daughter |
| 175 | Vengaboys | We Like to Party |
| 174 | Will Smith | Miami |
| 173 | Dave Dobbyn | Language |
| 172 | B52's | Love Shack |
| 171 | Supergroove | Sitting inside my Head |
| 170 | Boyz II Men | On Bended Knee |
| 169 | Mariah Carey | Always be My Baby |
| 168 | Commitments | Mustang Sally |
| 167 | Split Enz | Message to My Girl |
| 166 | Los Del Rio | Macarena |
| 165 | Maroon 5 | She Will Be Loved |
| 164 | Whitney Houston | My Love is Your Love |
| 163 | Simply Red | Fairground |
| 162 | Duran Duran | Hungry Like the Wolf |
| 161 | Kris Kross | Jump |
| 160 | Bic Runga | Sway |
| 159 | INXS | Suicide Blonde |
| 158 | Cutting Crew | (I Just) Died in Your Arms |
| 157 | Ronan Keating | When You Say Nothing at All |
| 156 | Rihanna | Don't Stop the Music |
| 155 | Haddaway | What is Love |
| 154 | wallflowers | One Headlight |
| 153 | Don Henley | Boys of Summer |
| 152 | KCI & JOJO | All my Life |
| 151 | Matchbox 20 | 3am |
| 150 | Vanessa Williams | Save the Best for last |
| 149 | Will Smith | Men in Black |
| 148 | Nickelback | Photograph |
| 147 | 4 Non Blondes | What's up |
| 146 | Phil Collins | Another Day in Paradise |
| 145 | Pink | Just Like a Pill |
| 144 | Red Hot Chili Peppers | Under the Bridge |
| 143 | Mariah Carey | Hero |
| 142 | Bruce Springsteen | Born in the USA |
| 141 | Cranberries | Ode to My Family |
| 140 | Gwen Stefani | The Sweet Escape |
| 139 | Soul Asylum | Runaway Train |
| 138 | Eurythmics | Sweet Dreams (Are Made of This) |
| 137 | Smashing Pumpkins | 1979 |
| 136 | Belinda Carlisle | Heaven is a Place on earth |
| 135 | Pearl Jam | Better Man |
| 134 | A-Ha | Take on Me |
| 133 | Backstreet Boys | I Want it That Way |
| 132 | Prince | When Doves Cry |
| 131 | Lisa Loeb | Stay ( I Missed You) |
| 130 | Killers | Somebody Told Me |
| 129 | Mariah Carey | Without You |
| 128 | U2 | With or Without You |
| 127 | Alanis Morrisette | Hand in My Pocket |
| 126 | Beyonce | Irreplacable |
| 125 | Tears for Fears | Everybody Wants to Rule the World |
| 124 | Alannah Myles | Black Velvet |
| 123 | Lenny Kravitz | American Woman |
| 122 | Tracy Chapman | Fast Car |
| 121 | Nine Days | Story of a Girl |
| 120 | Fugees | Killing Me Softly |
| 119 | John Farnham | You're the Voice |
| 118 | Eminem | Lose Yourself |
| 117 | U2 | Mysterious Ways |
| 116 | Eric Clapton | Tears in Heaven |
| 115 | Nelly | Hot in Herre |
| 114 | Poison | Every Rose Has it's Thorn |
| 113 | Justin Timberlake | Cry Me a River |
| 112 | Mr. Big | To be With You |
| 111 | Green Day | Wake Me Up (When September Ends) |
| 110 | Bruce Springsteen | Dancing in the Dark |
| 109 | Mariah Carey | Emotions |
| 108 | R.E.M. | Man on the Moon |
| 107 | Prince | Cream |
| 106 | George Michael & Queen | Somebody to Love |
| 105 | Proclaimers | 500 Miles |
| 104 | U2 | One |
| 103 | Roxette | It Must Have Been Love |
| 102 | Bon jovi | Blaze of Glory |
| 101 | 2Pac | Changes |
| 100 | Michael Jackson | Billie Jean |
| 99 | Wilson Philips | Hold On |
| 98 | Exponents | Who Loves Who the Most |
| 97 | Taylor Swift | Love Story |
| 96 | David Bowie | Let's Dance |
| 95 | Crowded House | Weather With You |
| 94 | Backstreet Boys | Larger than Life |
| 93 | Madonna | Papa Don't Preach |
| 92 | All-4-One | I Swear |
| 91 | Blink 182 | All the Small Things |
| 90 | Kelly Clarkson | Because of You |
| 89 | Vanilla Ice | Ice Ice Baby |
| 88 | Spin Doctors | Two Princes |
| 87 | Ace of Base | The Sign |
| 86 | Tom Petty | Free Fallin' |
| 85 | Robbie Williams | Angels |
| 84 | Killers | Mr. Brightside |
| 83 | TLC | Unpretty |
| 82 | Foo Fighters | Learn to Fly |
| 81 | Police | Every Breath You Take |
| 80 | Savage Garden | Truly, madly, Deeply |
| 79 | Bon Jovi | Always |
| 78 | Mariah Carey | Dreamlover |
| 77 | Bryan Adams | Summer of 69 |
| 76 | Snow Patrol | Chasing Cars |
| 75 | Cyndi Lauper | Girls Just Wanna Have Fun |
| 74 | Extreme | More Than Words |
| 73 | No Doubt | Don't Speak |
| 72 | Justin Timberlake | Rock Your Body |
| 71 | Survivor | Eye of the Tiger |
| 70 | Natalie Imbruglia | Torn |
| 69 | Montell Jordan | This is how We Do It |
| 68 | Prince | Little Red Corvette |
| 67 | Seal | Kiss from a Rose |
| 66 | Amy Winehouse | Rehab |
| 65 | Sublime | Santaria |
| 64 | Whitney Houston | I Wanna Dance With Somebody |
| 63 | New Radicals | You Get What You Give |
| 62 | Mariah Carey/Boyz II Men | One Sweet Day |
| 61 | Britney Spears | Baby One More Time |
| 60 | Bon Jovi | You Give Love a Bad Name |
| 59 | Elton John | can You Feel the Love Tonight |
| 58 | Jay Z/Alicia Keys | Empire State of Mind |
| 57 | Meat Loaf | I'd Do Anything for Love |
| 56 | Dave Dobbyn | Slice of Heaven |
| 55 | Tom Cochrane | Life is a Highway |
| 54 | Pink | So What |
| 53 | George Michael | Faith |
| 52 | TLC | Waterfalls |
| 51 | Third Eye Blind | Semi-charmed life |
| 50 | Lou Bega | Mambo #5 |
| 49 | Nirvana | Come As You Are |
| 48 | Notorious B.I.G | Mo Money mo Problems |
| 47 | Black Crowes | She Talks to Angels |
| 46 | Cranberries | Zombie |
| 45 | Lady Gaga | Poker Face |
| 44 | Dire Straits | Money For Nothing |
| 43 | Backstreet Boys | As Long As You Love Me |
| 42 | U2 | Beautfiul Day |
| 41 | Cure | Friday I'm in Love |
| 40 | Celine Dion | It's All Coming back to me Now |
| 39 | Robbie Williams | Let Me Entertain You |
| 38 | Michael Jackson | Man in the Mirror |
| 37 | Madonna | Vogue |
| 36 | R.E.M. | Losing my Religion |
| 35 | George Michael & Elton John | Don't let the Sun Go Down on Me |
| 34 | Beyonce | Crazy in Love |
| 33 | Sinead O'Connor | Nothing Compares to You |
| 32 | Santana featuring Rob Thomas | Smooth |
| 31 | Katy Perry | I Kissed a Girl |
| 30 | Alanis Morrisette | Ironic |
| 29 | Coolio | Gangsta's Paradise |
| 28 | Bonnie Tyler | Total Eclipse of the Heart |
| 27 | Oasis | Wonderwall |
| 26 | Boyz II Men | End of the Road |
| 25 | Pink | Get the Party Started |
| 24 | Bryan Adams | (Everything I Do) I Do it For You |
| 23 | Spice Girls | Wannabe |
| 22 | Verve | Bittersweet Symphony |
| 21 | Prince | Purple Rain |
| 20 | Guns N Roses | November Rain |
| 19 | Whitney Houston | I Will Always Love You |
| 18 | Justin Timberlake | Sexyback |
| 17 | Nirvana | Smells Like Teen Spirit |
| 16 | TLC | No Scrubs |
| 15 | Journey | Don't Stop Believin' |
| 14 | Exponents | Why Does Love Do This to Me |
| 13 | Celine Dion | My Heart Will Go On |
| 12 | Black Eyed Peas | I Gotta Feeling |
| 11 | Guns N Roses | Sweet Child o'Mine |
| 10 | Puff Daddy | I'll be Missing You |
| 9 | Bon Jovi | Livin' on a Prayer |
| 8 | Beyonce | Single Ladies |
| 7 | Madonna | Like a Prayer |
| 6 | Aerosmith | I Don't Want to Miss a Thing |
| 5 | Michael Jackson | Thriller |
| 4 | Phil Collins | in the Air Tonight |
| 3 | Outkast | Hey Ya! |
| 2 | Toto | Africa |
| 1 | Backstreet Boys | Everybody (Backstreet's Back) |