UNREAL REAL ESTATE with Eves Realty Rotorua!
Publish Date

Thursday, 5 November 2020, 3:47PM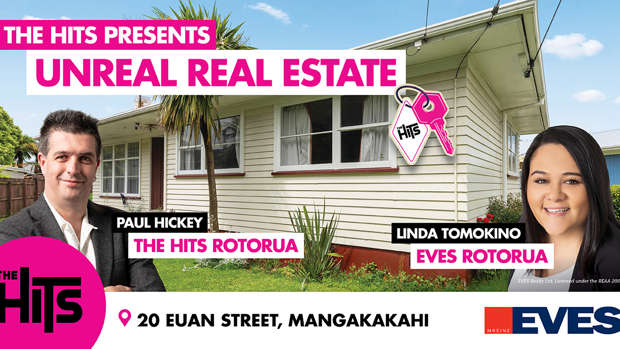 The battle is on! The Hits Tauranga, Waikato and Rotorua present UNREAL Real Estate Twenty Twenty - a battle of the regions to see who can collect and be awarded the most points through the house sale process with EVES Realty. 
Paul Hickey from The Hits Rotorua has teamed up with Linda Tomokino from EVES Realty Rotorua and throughout the sale process, you have the chance to help Paul and Linda take out the title of UNREAL Real Estate 2020, and be in the running for prizes yourself! 
You, our listeners, will assess Paul & Linda along their journey to help them win the tile of UNREAL Real Estate 2020. By voting you can help the Rotorua Team win victory and be in the draw to WIN an EPIC prize for yourself! 
Having worked for EVES Realty for the past two years, Linda has a well-rounded understanding of the business. Starting out as the Sales Administrator for the Rotorua branch, Linda obtained valuable insight into the processes of real estate all whilst studying to officially obtain her license. Once her license was active, she was quickly snapped up by the two of the branches top salespeople and employed as their Sales Associate. During the six months of selling and working for this team, Linda had facilitated ten property sale transactions and gained valuable experience and knowledge which has ensured she is fully equipped with the tools and know-how for real estate. Now it's her turn to rocket into the market and assist her clients in achieving their goals.  
EVES Exceptional. Every day.