Win a Chainsaw Safety Pack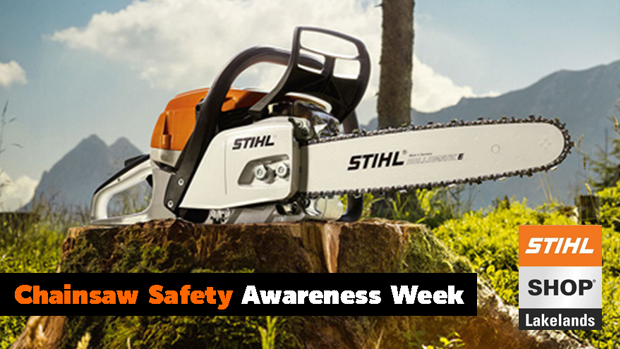 Taking five minutes to get ready before you start your DIY adventure is essential to your safety.
That is the message from Monday 23 to Sunday 29 May as Stihl Shop Lakelands supports 'Chainsaw Safety Awareness Week'. It's about reminding the occasional chainsaw user who starts up their machinery every now and then about the importance of being safe.
And to celebrate listen to Paul on The Hits Rotorua for a chance to win a 'Stihl Safety Pack' including safety chaps, muffs & safety glasses. Or simply text SSL to 4487 (normal charges apply) to get in the draw.  A second prize of a Stihl Function Helmet Set is also up for grabs.
This pack is on special during the week for just $169 (normally $273) at Stihl Shop Lakelands, right by K Mart Rotorua.

STIHL CHAINSAW SAFETY WEEK:
'wear the right gear' & Be safe with:
• Safety chaps, ( to prevent accidental cutting of the most prone area of the body)
• earmuffs, (to reduce harmful noise)
• safety glasses or visor, (to minimise the effect of dust/debris
• gloves,
• boots (to protect from falling/rolling/sharp objects
• helmet if you are cutting under overhead hazards
Clothing: check safety chaps are worn correctly and fit properly.
Wear toe covered shoes/boots.
Chainsaw: Check the cutters are sharp, the chain is the right tension, safety devices like chain brake & chain catcher are working correctly. If anything is missing or damaged don't use the chainsaw, get it checked first at STIHL Shop Lakelands.
Work area: make sure your work area is free of tripping hazards and electrical cables. Keep an eye out for anyone who could enter your work area. And check that nothing is going to fall on you while your working (like tree tops, pinecones – Helmet kit comes in handy when these overhead hazards are present)
Hold the chainsaw correctly, AND Maintain your chainsaw.  Good maintenance will extend its life and ensure it is safe to use.