Help a Family - WIN a Premium Package from Fastdry Services worth $750!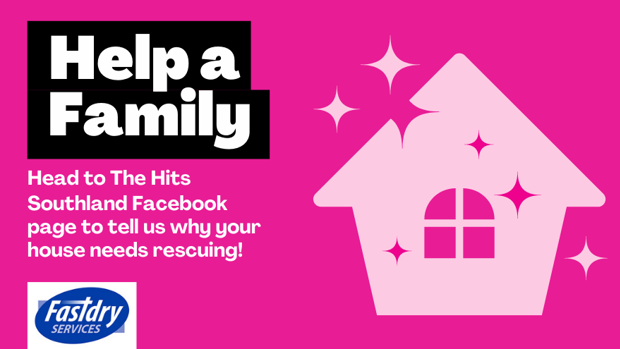 It's that time of year again and your property is needing some TLC after the wild weather we've had here in Southland. But family life is busier than ever and those important household jobs keep slipping down the list.
Never fear, The Hits and FastDry Services are here to Help a Family out! Head to The Hits Southland Facebook page to tell us why your house needs to be rescued and you'll be in the draw to WIN a FREE Premium Gutter Vacuuming package worth $750!
This full service package from Fastdry Services includes:
Vacuuming gutters to clean debris
Flushing all gutters and downpipes
Soft wash exterior of your property from the gutter line down, to remove mould, algae, spiderwebs and general dirt
Clean exterior windows with our pure hot water system
Application of the slow acting moss treatment to roof, to self-clean over 6-12 months
While Fastdry are doing the work, you and your family can relax all thanks to The Hits 98.8 and Fastdry Services – keeping your property in shipshape.
Fastdry Services, we provide specialized gutter vacuuming, using a system unlike any other out there — and it stops you from having to get up on a ladder to try and clean your gutters out. We also provide water blasting for your home exterior, effective roof cleaning and sparkling window cleaning. Visit www.fastdryservices.co.nz for more info. 
T&Cs. Entries close 12pm, Friday 30 July 2021.