The Hits Loyalty Lucky Dip!
Publish Date

Thursday, 18 November 2021, 1:17PM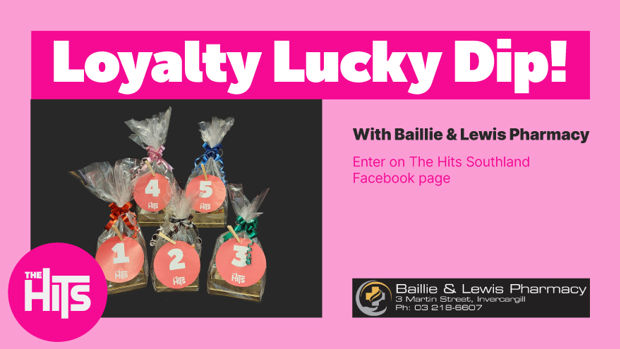 It's your lucky week with Baillie & Lewis Pharmacy and The Hits Loyalty Lucky Dip!
We've got 5 gift hampers from Baillie & Lewis Pharmacy to giveaway to celebrate their extended loyalty week. Head to The Hits Southland Facebook page now and tell us which lucky dip number you want to be in the draw to win!
It's all thanks to Baillie and Lewis Pharmacy Martin Street. Join them from Monday 22nd to Friday 26th November for their annual loyalty specials. That's right, this year instead of 1 day you get 5 days to take advantage of the following great specials and awesome spot prizes – don't forget your loyalty card!
All week 30% off Revlon and 30% off all Vitamins except Nutra Life that has 50% off all month.
There are 3 days of Thin Lizzy specials with 50% off (Wednesday, Thursday & Friday).
They have daily spot prizes, and a gift voucher to be won worth $250.
There is also some awesome Christmas Decorations and if you are looking for that special Christmas gift there are specials in store on selected items this week.