WIN! The Hits Holiday Haul
Publish Date

Sunday, 21 November 2021, 5:00PM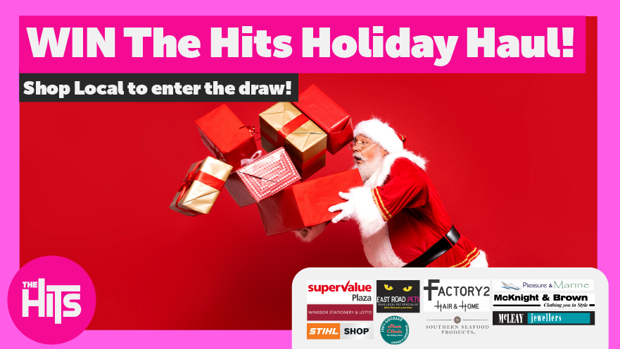 'Tis the season to be jolly and WIN with The Hits Holiday Haul! We've got a treasure trove of great prizes to be won valued at over $1,200! The only question is... will you share? Or will you keep this massive Christmas prize haul for yourself.
Just spend $20 or more at any participating store below and fill out the entry form for your chance to WIN The Hits Holiday Haul, including:
A $100 gift basket from Windsor Stationery & Lotto, they put the win in Windsor. Find great Christmas gift ideas for all the family plus cards and wrapping paper, and send any presents while you're there. Get in store now at 1 Windsor Street, Windsor.
Pleasure & Marine, your local boating and outdoors store, have included a Sportsstuff Tube - Gyro valued at $648!. Boats, boating accessories, water sports from skis, tubes paddleboard, lifejackets, chilli bins and so much more - find Pleasure and Marine at 24 Bay Road, Invercargill.
An R.M. Williams Script Crew Sweatshirt valued at $125 from McKnight & Brown Menswear. Give him a gift he'll love from McKnight & Brown, in store at 30 Esk Street. Gift Vouchers available.
A pair of ladies or men's Asics Shoes from Shoe Clinic Invercargill valued at $300! Shop local this festive season and head into The Shoe Clinic on Esk Street for walking, running or working out!
Stihl Shop Invercargill have included $100 voucher to get you set for all your Weber BBQ's and accessories this summer! Find them at 120 Tay Street.
A $100 voucher from East Road Pets – your one stop pet shop, proudly locally owned and operated. Visit them in store now at 68 East Road for pet food, bedding, toys and pets of al descriptions.
A $100 voucher from Southern Seafood Products so you can choose your salmon or fresh seafood this Christmas. Visit them in store now at 8 Wood Street for fresh salmon and seafood straight from Stewart Island!
McLeay Jewellers have included a $100 voucher so you can shop their wide selection of beautiful jewellery and watches. Take the stress out of your decision making, our staff can help you pick out that perfect gift. Visit them now at 83 Dee Street.
A $75 cut and blow wave from Factory 2 Hair & Home plus a $70 Redken Colour Extend Magnetics pack. This creative, on trend forward thinking Homeware boutique is a destination with heads and homes in mind. See the three treasure laden rooms at 433 Dee Street.
A $100 grocery voucher from Plaza Supervalue where you can get super fresh produce for your family, stock up on festive specials and grab a beautiful bunch of ready made or made to order flowers. See the friendly team at 103 Yarrow Street.
Terms and conditions apply. Entries close 5pm, Friday 10th December 2021.