WIN A DOUBLE PASS TO DAKOTA OF THE WHITE FLATS *HGAF*
Publish Date

Monday, 22 February 2021, 4:33PM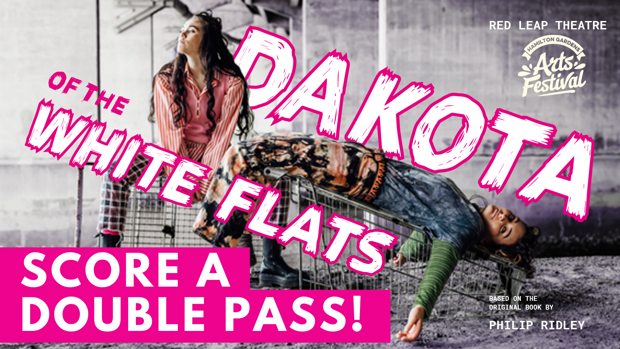 The Hits Waikato is STOKED to be a part of the 2021 Hamilton Gardens Arts Festival... For over twenty years HGAF has been the Waikato's Premier Arts festival showcasing an array of extremely talented artists.  Thanks to their amazing team, The Hits Waikato is giving you the chance to score a double pass to a showing of Dakota of the White Flats... Keen to get yourself in the draw? Register your details below! 
One lucky winner will score a double pass to a 12pm showing of Dakota of the White Flats on either Wednesday 24th, Thursday 25th or Friday 26th (the choice will be yours!) at The Meteor. 
Dakota of the White Flats

Adapted from the novel by award-winning author Philip Ridley, Dakota of the White Flats is a thrillingly spooky show for young people and adults.

Dakota Pink is a fearless 14-year-old who lives in a bleak housing complex on the edge of a polluted canal. Abandoned supermarket trolleys litter the streets and the oil slick water of the canal is filled with monstrous mutant eels. When Dakota and her best friend Treacle discover a secret, they find themselves on a life-changing mission.

With wild characters, gutsy heroines and an electric score, this fast-paced show explores ideas of resilience and bravery in a changing world.

Presented by Red Leap Theatre Company.
For more info and to check out the rest of the Hamilton Gardens Arts Festival lineup, click here.