Publish Date

Tuesday, 3 December 2019, 3:03PM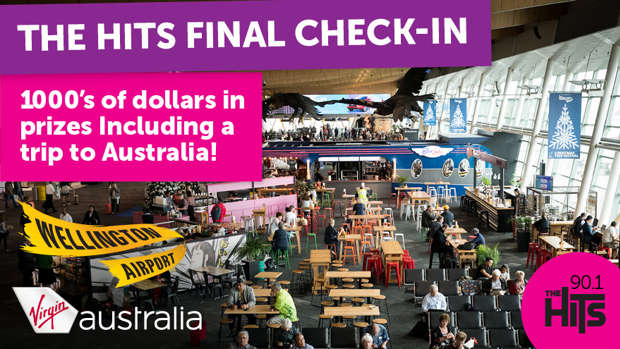 The Hits has your chance to win a trip to Aussie with Wellington Airport and Virgin Australia!
Tune in to Hayley 9am-3pm weekdays to play The Hits Final Check-In.  You could win prizes from Wellington Airport retailers, including an invite to the finale for the ultimate prize – a trip for two to Aussie!
Wellington Airport retailers are open until at least 7pm daily, with loads of shopping options!
Plus Fly Virgin Australia to Brisbane or Sydney direct from Wellington!
HOW IT WORKS:
Tune in to Hayley, and call 0800 THE HITS to the Wellington studio when you're prompted
If you get through to Hayley, you'll be playing The Hits Final Check-In!
You're going to hear prizes read out from the wonderful retailers at Wellington Airport!
If at any point you want to claim the prizes read out to you so far,
You must say "FINAL CHECK-IN"
At which point (if the buzzer hasn't gone) you win everything read out until that point!
If you hear the buzzer before you say "FINAL CHECK-IN", you lose it all!
Plus, two lucky players over the next two weeks will be surprised with a spot in the finals
They'll be playing the game live at Wellington Airport, with more amazing prizes
One person will even walk away with a trip for two to Australia thanks to Wellington Airport and Virgin Australia!
PRIZE TRIP TO AUSTRALIA INCLUDES:
Flights for two to Brisbane or Sydney (subject to availability and Virgin Australia T's and C's)
$600NZD Towards accommodation on your trip
Click on any of the names below to check out the amazing Wellington Airport Retailers!
3 Wise Men make it easy for people to buy quality fashionable gear at affordable prices.  Shirts are made of the softest, richest 100% double ply cotton.  Ties are 100% silk and made with a strong, durable lining so they can endure many wears. Everything they make wears beautifully and is made to last!
Inspired by nature, Icebreaker harnesses the incredible capabilities of natural fibres to make simple, beautiful, high quality clothing that inspire and enable people in their adventures outdoors and in everyday life.
Trenery offers everyday luxury. They've created collections that are modern in approach and timeless in style with quality fabrics and considered details. They combine traditional craftsmanship with natural fabrics made from wool, silk, cashmere, linen, cotton, and leather to make effortless, enduring designs with lasting integrity.
Artisan hand-rolled bagels are lovingly wood-fired to perfection. Pair your bagel with a Good Joe coffee.
A true style authority, Witchery celebrates the ever-changing mindset of fashion through directional and inspiring designs. Always sophisticated and feminine, Witchery elevates every facet of the modern woman's wardrobe with complete fashionable ease.
Become a part of Three Quarter Society and try the signature drink of Wellington - freshly made 3/4 Flat White from the keepers of coffee secrets.  Or discover a taste of Peppermint and Mayan Chilli hot chocolate or select from the range of aromatic teas available.
Mojo serves great cabinet food for people on the go. They also have an extensive menu for travellers with more time on their hands. Mojo caters to different dietary restrictions including dairy free, gluten free, vegan, and vegetarian.  The Mojo coffee is roasted right here in Wellington. You can also enjoy local wine and craft beer too (R18).
TJ Katsu, are now at the Airport.  Offering tasty Japanese sushi and cuisine, their range includes sushi, chicken katsu, and more!
Come and sample one of the seven taps pouring Fortune Favours' own brews as well as other Wellington breweries in its bottle range.
Serves cooked breakfasts to delicious burgers and fries, along with hot deli sandwiches. The counter is fully loaded with grab and go, muffins, sandwiches, savories and pies. Coffee is also available.
Offers a taste of Wellington to locals and visitors in a showcase of some of Wellington's best producers.  Rotating selection of local coffee roasters, check with the barista for today's beans.  Enjoy one of the gourmet hot dogs and, wash it down with one of Wellington's finest local craft beers. We have 8 rotating taps and a wide selection of regional wines.
Running late or In a rush? You can still grab a stress-free coffee and snack en route to your destination. Percival is our post-security coffee kiosk. Laden with sandwiches, croissants, drinks, coffee and pies, we'll get you fueled, fed and airborne!
Whiskey Lima Golf is the restaurant in the Rydges Wellington Airport hotel, providing cracking good food and drink on a whole other level. Offering a dining experience not typical to that of an airport. With direct access from within the terminal, arrive a little earlier and treat yourself to a next level dining experience.
You'll find the newly opened Peloton Bar and Eatery at the north end of the terminal, offering a sophisticated and relaxing environment with private pockets for you and your friends to enjoy before or after your flight.
Newly opened beauty destination in the Airport featuring a luxury offering from some of the most well-known brands:
MAC
Jo Malone London
Bobbi Brown
Clinique
Estee Lauder
Indulge in the best of the beauty bunch.
SUBWAY restaurants have been serving health-conscious Kiwis great tasting, better fast food.