Photographer snaps wrong couple in epic engagement photo fail
Publish Date

Friday, 19 May 2017, 1:03PM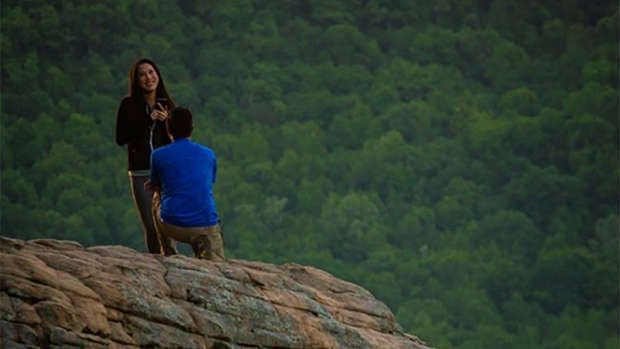 A photographer made an expensive mistake when he accidentally photographed the wrong couple's proposal.
Jacob Peters said he was contacted several days ago by a man in Wisconsin who needed a photographer to sneakily capture a romantic sunrise engagement at a popular landmark known as Hawksbill Crag.
The man wanted to surprise his soon-to-be fiance with the romantic photos from afar. 
At 2.30am Peters woke up and headed out to Arkansas' Ozark National Forrest to make his way up towards the crag. 
He hiked for over an hour to get to the photo op spot with 30 pounds of gear, and then set up his camera and got ready for the couple to arrive. 
With no cell phone service at the remote spot, all he could do was wait. 
At 6.17am, a young couple, who he assumed were the couple he was meant to be photographing, walked onto Hawksbill Crag in the distance, and Peters began shooting.
After a few minutes standing and taking in the view, the man pulled out a ring, got down on his knee and asked the young woman to be his wife. 
Peters said that when she turned around she started crying and hugged him, making it obvious to him that it went well and that she said yes. 
He took a few more photos after the couple sat down to enjoy the rest of the sunrise, and after 15 minutes packed up his belongings and hiked back down to his car. 
Before driving home, he said: "I send the guy a text saying congratulations, the photos are beautiful. I'm glad it all worked out."
Once he got home, he said he took a nap, "since I was very exhausted," and woke up to a text from his client. 
The text read: "I'm confused, we never saw you and we got there a little late, are you sure it was us? I was in a blue plaid shirt..."
Peters realised that the proposal he photographed was the wrong couple who happened to get engaged at the same place at the scheduled time. 
His client was about an hour late and, due to lack of cell service, couldn't get in touch to tell him that. 
Speaking to Petapixel, Peters said that he was kind of upset at himself at first.
"I had just ordered a new camera and this shoot was going to go towards that. And I knew I wasn't going to charge someone for work I didn't do. I told my wife what happened and then immediately thought, they had to have seen me and thought I was some creeper in the woods with my camera," he explained.
After a few days, he decided that he had the couple's photos so he might as well try to find them, and put out a public request on Facebook Facebook. 
He was able to get in touch with the mystery couple, and said that "they couldn't have been happier". 
Peters said that he hopes he can make it up to his client by doing another romantic photo shoot with them, and has started a GoFundMe to try to raise enough money to make that happen.