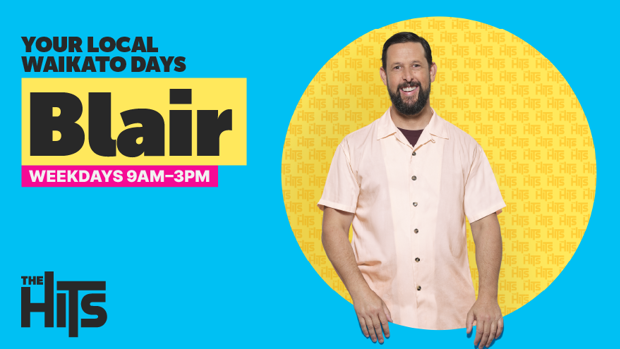 The Hits Waikato is on 98.6FM and online at iHeartRadio.
You can find The Hits Waikato on Facebook and Instagram.
Born in Morrinsville and grew up on a farm, rode dirt bikes, learnt drums and dreamt of being an All Black.
Married a girl from the Bay and now have 2 children Josh and Jordan.
The first word I ever said as a kid was 'ray-dio' and ironically that is what I left school to do and have been doing ever since.
In the weekends you will find me behind the drums in a pub or at a private function, mowing lawns or driving the kids somewhere.
I love living in the Waikato, it's always been my home, growing up here and working on The Hits Waikato is a real privilege!
I know every shortcut, every secret spot and most of all I get to be part of this stunning region everyday on-air.

Why did get into radio?  

Initially it was a love of music but over the years it has become so much more. 
It's talking with people, it's being part of a community, it's being part of someones day, everyday.
Love it
The Hits Waikato Day Show Sponsored by: Landmark Homes Waikato 

Based in Hamilton, Landmark Homes licensed master builders can build your new home, whether you are based in the city suburbs or elsewhere in the Waikato - Discover what's possible with Landmark 
Te Kowhai Showhome
Located at 8 Captain Stone Road, Te Kowhai 
Open: Wed-Fri 10am – 2pm, Sat-Sun 12pm – 4pm  
With its Te Kuiti stone fireplace, black asphalt shingle roof, and grey Linea cladding, this grand family home truly caters to every Kiwi's dream country lifestyle and is sure to impress! The 'Waihi' Ready to Build plan has been upsized and modified to include extra storage, additional garaging, and a larger ensuite for the master bedroom – a real showpiece. 
DON'T BUILD A HOUSE, BUILD A LANDMARK.