Bacon wrapped lasagna recipe
Publish Date

Friday, 28 April 2017, 10:59AM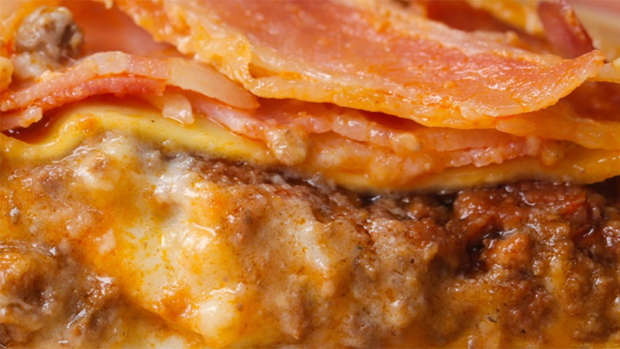 What You'll Need:
2 packs streaky bacon, smoothed out with the flat of a knife.
Beef Ragu – 400g beef mince, 1 onion, minced garlic, 3 tbsp tomato puree, red wine and seasoning. Fry the mince and onion until browned then add the tomato puree and red wine. Simmer gently for an hour.
4 fresh pasta sheets, trimmed to the size of the loaf tin
Bechamel – 50g butter, 50g plain flour, 1-litre milk.
1 cup parmesan
1 cup mozzarella
How You Make It:
Preheat oven to 180°C/360°F.
Line a greased loaf tin with streak bacon, making sure they overlap.
Begin layering the lasagna – first place the pasta sheets, then the ragu, then a layer of béchamel followed by the cheeses. Repeat to the top of the tin and fold the bacon edges over.
Bake for 45 minutes until the bacon is crisp.
This article was first published on Twisted Food and is republished here with permission. Visit their Facebook page.