Bizarre 'belly pumping' technique trend has blown our minds
Publish Date

Monday, 22 May 2017, 10:04AM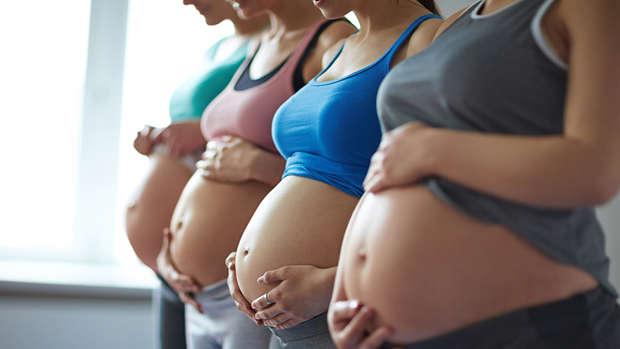 Jaw-dropping videos showing women's baby bumps appear to vanish in seconds are sweeping social media.
The clips are part of a growing trend for a technique called 'belly pumping', part of an increasingly popular exercise programme for mothers.
Women film themselves breathing deeply through the diaphragm - as opposed to the chest - which not only helps to de-stress but also appears to make their baby bump all but disappear.
Recent Instagram videos have racked up as many as 4,000 views and hundreds of comments from women dying to know more about the technique.
The exercise programme, called the Bloom Method, originated in Boulder, Colorado and promises to help expectant mothers keep up their core strength during pregnancy.
The brainchild of pregnancy specialist Brooke Cates, who is currently planning a series of online classes, it focuses on a range of pelvic health and abdominal exercises.
And Cates insists that far from harming the baby, performing Belly pumps (or 'BPs') simply makes the child 'slide up' towards the rib cage. 
A recent video, which has since gone viral, shows instructor Rachel activating her transverse abdominal muscles to 'hug' her baby.
According to Babble, this "creates a contraction between the pelvic floor and deep core muscles and lifts and activates the pelvic floor".
Writing on the Bloom Method's Instagram page, Cates explained: "Belly Pumps are a must for all mamas, while we teach a series of deep core engagement exercises these are super yummy and easy for any woman to incorporate into her pregnancy.
"Adding BP's to your day may feel weird at first as most of us are chest breathers before we draw awareness to the importance of diaphragmatic breathing. 
"Stick with it and be patient ... your body came into this world breathing this way, it just has to remember."
Cates, who said she would be trying for her first baby in a few months, told Babble: "I'm greatly looking forward to having my mind completely blown when I go through pregnancy for myself!"
What is belly-pumping? 
"Belly Pumping is a relatively new concept originating from The Bloom Method," says Katie Hilton, iCandy Midwife and expert at The Baby Show which is running until Sunday at the Birmingham NEC. 
"The technique helps to build up abdominal strength and muscles whilst teaching parents breathing exercises which can also be useful both during pregnancy and birth.
"Parents are taught breathing techniques as part of their antenatal classes but this takes it a step further. Essentially you're breathing in and holding your abdominal muscles for a period of time, doing longer and shorter bursts. 


"The pros are using these techniques can help to reduce the risk of developing diastasis recti, a common condition which involves abdominal muscles separating during pregnancy.
"The only negative thing is the idea that a mum would not want to display their pregnancy bump when it should be a time when you should be really proud of what you're achieving with your body.
"As with any new technique mothers should run it by their midwives before practising these methods."
This article was first published on Daily Mail and is republished here with permission.