British transgender woman loses 31kg
Publish Date

Saturday, 17 June 2017, 11:09AM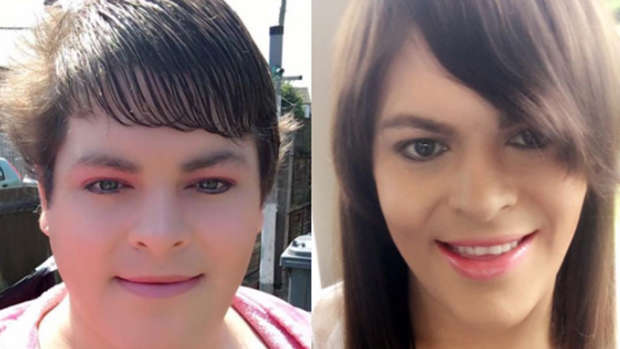 An obese transgender woman who comfort ate to cope with being trapped in the wrong body has shed 31kg after coming out gave her the confidence to get in shape.
Jennifer Lees, who was born a boy, became so down after 29 years of "living a lie" as Mark that she shut herself away playing video games and bingeing on fast food, chocolate and sweets - ballooning to 140kg.
Although she would order women's clothes online and dress up in secret, Jennifer was too scared to come out as she feared how her family would react and instead found solace in pizzas, Chinese takeaways and sugary snacks.
But after coming out in October 2015 and starting hormone replacement therapy a year later, Jennifer was told she would need to shed 44kg to reach a safe weight for her gender reassignment surgery.
Now eight months into her weight loss journey, Jennifer, now 31, is well on track weighing 109kg and has dropped six dress sizes from a size 28 to a size 16.
The trans woman's weight loss has also boosted her confidence as Jennifer has gone from a "shy shut-in" to a social butterfly who loves shopping, karaoke and embracing her glam side.
Supermarket assistant Jennifer, of Ipswich, Suffolk, said: "Coming out and knowing that I need to lose weight to have my surgery were exactly the inspiration I needed to get in shape.
"I'm so motivated and determined. It's given me that end goal that I think everyone needs when they've struggled with their weight.
"I feel amazing, losing weight has been the best thing that has ever happened to me. It has really boosted my confidence.
"When I was living as Mark and I was at my biggest I used to just shut myself away because I was so insecure.
"I was so down that I comfort ate all the time and I was eating all the wrong stuff.
"I kept Jennifer secret and would only ever order clothes online so I could dress up at home by myself. But even then it was hard to find clothes because I was so big.
"I would go to karaoke but stand in the corner and never talked to anyone because I was so shy. Now I'm anything but shy and I've made so many friends.
"And it feels so great to be able to go out into town shopping and buy whatever I want.
"I am finally being true to myself and living life as the person I should be and always was on the inside. I just can't wait to lost another two stone (12kg) and have my surgery."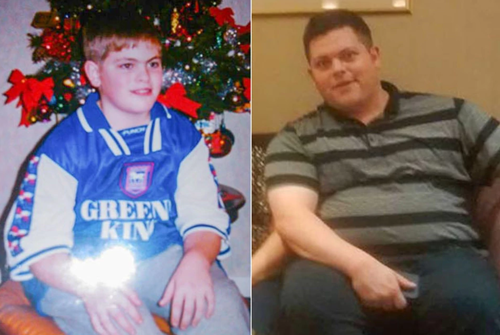 Jennifer first knew she was trapped in the wrong body from the age of four and couldn't understand why "she wasn't like the other girls".
It wasn't until she was 19 that Jennifer got to be herself for the first time when her parents Susan Lees, 68, and Richard Lees, 71, went on holiday and Jennifer seized the opportunity to raid her mum's wardrobe.
Over the next decade Jennifer lived as Mark, a stereotypical bloke, enjoying beer, football and video games, but her bulky frame became a symbol of how down she actually was.
Jennifer kept dressing up in secret until 2011 when she became so frustrated with her double life she threw away all her women's clothes and wigs.
But rediscovering one wig that had somehow slipped through the net reignited a spark in Jennifer and she finally got up the courage to come out as transsexual to her family in October 2015.
Despite her fears about her religious family's reaction to her transgender status, Jennifer says her transition has been 'embraced with love' by everyone around her, especially colleagues and friends.
Just days after starting hormone replacement therapy in October 2016, Jennifer joined Slimming World and transformed her once fatty and sugary diet for lean home-cooked meals.
Now thanks to her incredible weight loss, Jennifer, who was named Greatest Loser for 2017, is just 12kg away from the surgery that will allow her to live her life in a body that reflects the woman she has always been.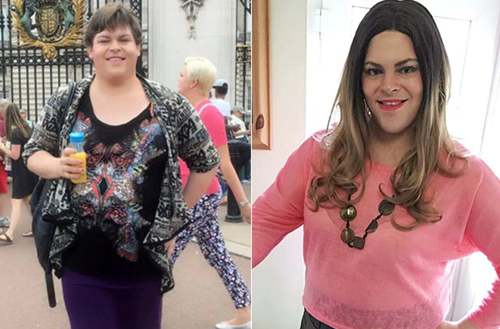 Jennifer said: "I remember being about four and I just knew that I was a girl.
"I obviously didn't really understand what gender was but I remember being around other kids and wondering why I wasn't like the other girls.
"It was very confusing but I just shut that side away. I've never been into stereotypically girly stuff so I don't think anyone ever suspected.
"I don't really believe age or gender should affect your hobbies.
"Even though I knew what transgender was from the age of 13 and I knew that it applied to me I would never even dream of coming out.
"My family have always been really religious and you hear horror stories about people being disowned.
"I spent so many years living a lie and I hated the body I was trapped in.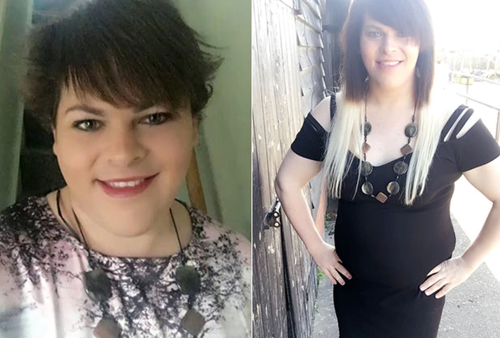 "At first dressing up in secret was a relief but after a while I just got so angry that it had to be in private that I got rid of everything.
"The next three years were the worst years of my life when I couldn't even be Jennifer in secret.
"That's when my weight really got bad. But then I rediscovered a wig that I had missed.
"I started buying women's clothes again and eventually I realised that I just couldn't do it anymore and keep who I really was secret.
"At my age you realise that life is just too short not to take chances.
"It has been hard for my family but they have coped so much better than I thought.
"Me coming out has been embraced with nothing but love. It's amazing - I'm so lucky."
Jennifer's daily diet before:
BREAKFAST: Three pieces of buttered toast (690 calories) and a very large bowl of bran flakes with semi-skimmed milk (280 calories)
LUNCH: Fried chicken wrap with cheese (560 calories), two cans of Dr Pepper (300 calories) and a slice of cake (297 calories)
SNACK: A big bag of Haribo sweets (547 calories) and a family bar of Cadbury chocolate (500 calories)
DINNER: A 12" takeaway meat feast pizza (1,040 calories)
TOTAL CALORIES: 4,214
Jennifer's daily diet now:
BREAKFAST: Low fat natural yoghurt with fruit (110 calories)
SNACK: A punnet of grapes (150 calories)
LUNCH: Baked chicken pieces (117 calories) with Uncle Ben's rice with steamed vegetables (209 calories) and a small protein yoghurt (58 calories)
DINNER: Slimming World nacho cheese bake (600 calories)
TOTAL CALORIES: 1,244
Source: NZ Herald.