Former bodybuilder shows of curves after ditching 'grueling' diet and exercise
Publish Date

Thursday, 13 July 2017, 8:20AM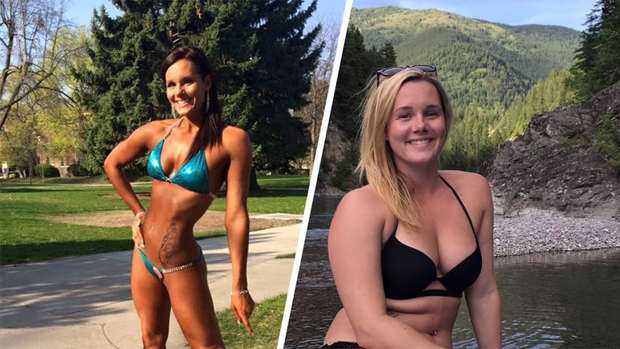 A woman who was once controlled by her rigid bodybuilder lifestyle is celebrating her curvier body and the freedom that comes with it.
Jolene Nicole Jones, of Montana, took to Facebook earlier this month to share two side-by-side photos of herself. The former body builder, 26, can be seen on one side flaunting her lean, thin body in a bikini and heels, and on the other side, happily posing during a rafting outing with friends, the Daily Mail reports.
Along with her transformation shots, Jones explained how much happier she is now that she has become a "body lover".
Jones, who entered a fitness competition two years ago wearing the same blue bikini and high-heeled shoes she sports in her "before" picture, recounted how her strict eating and exercise habits had eventually taken over her life and kept her from enjoying time with friends and loved ones.
"I went from being controlled by my gruelling gym regimen and weighing chicken and having protein shakes in my purse to fully enjoying a social life," she wrote next to the photos, which she also shared on Instagram.
Jones made it clear she has no regret for her previous lifestyle. "Some people might say this is "letting yourself go" but you can't put a price tag on happiness," she added.
"I call this finding myself and realising I can have more than one passion in life, whether it's hiking up in Glacier Park or enjoying beers with friends."
The 26-year-old also admitted that her former lifestyle never truly fulfilled her, while being able to enjoy activities with friends has brought her much more contentment.
"A six-pack didn't make me happy. I was never enough and always needing to improve," she wrote. "Today I went rafting with friends and enjoyed food the old me would have drooled over and wouldn't have dared to touch."
In her post, she encouraged others to embrace their natural body shapes as well. 
"Your body is quite LITERALLY the only thing that gets you through this life, your worth and joy isn't weighed by what you can lift or what the scale says," she added. "My worth is weighed by those I surround myself with and the smile on my face."
Jones' powerful message has been shared more than 37,000 times, with people praising her for her honesty and pointing out how happy she looks in her more recent photo.
At the height of her body building process, Jones was working out six times a week, lifting weights and doing 45 minutes of cardio on each of those days. Eventually, fatigue kicked in. 
"I realised it wasn't my passion anymore when I despised being there and was just going through the motions. And for what? What was I trying to improve? Who was I trying to impress?" she told Metro.
She has been out of the gym for three months, and although she still remains committed to being healthy, she doesn't miss the taxing workouts.
"Self-love is really hard, but I am the most comfortable in my skin I've ever been. Since the start of my break from the gym, I have not gained or lost a pound and I think it's because this is my body's happy place," she said.
Jones hasn't looked back on her previous lifestyle and is happy to have moved on from bodybuilding. 
"My friends and loved ones continue to make a point to let me know I look good," she said. "A lot of my friends think I look better now than I did before and I seem a lot happier. Probably cause I'm eating carbs now and I can have wine.'"
This article was first published on Daily Mail and is republished here with permission.