Hamish and Zoe Foster-Blake reveal the one item that instantly puts their baby to sleep every night
Publish Date

Thursday, 17 August 2017, 10:10AM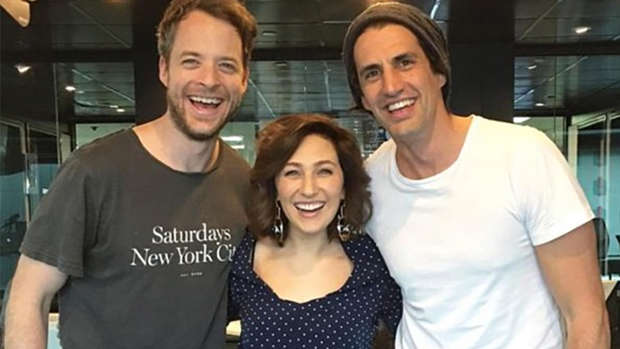 Hamish Blake and wife Zoe Foster-Blake welcomed their second child, Rudy, into the world at the start of the month.
And while they're both absolutely smitten with the new arrival, Rudy has been keeping the couple up at night as she struggles with gas.
But Zoe has found an item that seem to have eased Rudy's reflux and she's taken to Instagram to share her tips!
"Unlike her brother and father, my newborn struggles to expel air. Doesn't help that my flow speed (milk, not rap) is set to 200km/ph. And so, she's a gulpy, anguished, scrunched-up, yelly, crying, non-sleeping little Gollum unless I do stuff (tilted feeding etc) to limit gassiness. I know it will pass, but still. There's no risk of me being considered an expert, but these anti-wind aids were recommended to me, and I now I piff them to you. Cos maybe they will help get you some goddamn sleep," the post said.

Meet the Cooconababy Nest! 
"After a few sh*t nights of her in the bassinet, I tried this, which a friend evangelically advocated. It's the duck's nuts. She's not slept elsewhere since. It's on an incline for her reflux, is portable, gives her in-womb snugness, is safe, and I feel confident co-sleeping with it... It's A$300, and they only sleep in it for 3-4m, but WHAT PRICE [IS] SLEEP?! If only I knew about this when Sonny was a newborn," the post continued.

The Cooconababy Nest is available from @thestorknest.
The company's website say "the Cocoonababy nest reassures babies and help them adapt smoothly to life after birth. While respecting the medical recommendation to sleep babies on their back, the Cocoonababy® nest allows babies who have lost their known landmarks in the womb of their mother to feel safe and content. This position present many advantages, including improving the quality and length of time of your baby's sleep."
Thanks for the advice Zoe!