Here's how to make the PERFECT stir fry according to a top chef
Publish Date

Tuesday, 20 February 2018, 1:00PM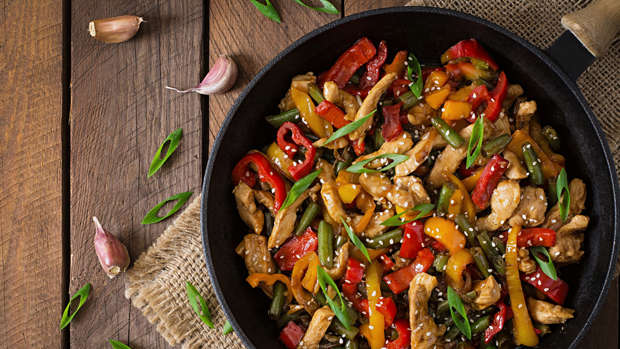 Never mix vegetables and meat, and heat a pan for a very specific length of time if you want to make the perfect stir fry, according to one of the best Chinese chefs in the world.
Ken Hom, who is from the US but lives in France, has revealed to the Daily Mail the mistakes that many amateur cooks make in the kitchen when trying to make a classic Cantonese stir fry.
The celebrity chef says it's considered a sin in Chinese cooking if you stir fry meat and vegetables together, and he also advises to heat a pan on the highest heat for at least six minutes before adding any ingredients.
Hom, who shared his tips for the perfect noodle dish on behalf of sauce company Lee Kum Kee, has created a stir fry recipe for Chinese New Year.
But he recommends that you don't overcrowd the pan or chop ingredients unevenly if you want the perfect tasting dish.
Here, he reveals the catastrophic mistakes to avoid when cooking a stir fry that can ruin your quick dinner.
1. The pan isn't hot enough
It should be heated dry, on the highest heat and for at least six minutes.
When you're home from work late, waiting for your pan to heat properly feels like an eternity, but giving it adequate time to reach its highest temperature will make all the difference to your stir fry's texture and depth of flavour. The very essence of the stir fry is quick cooking on a very high heat.
The oil should be added next and heated for a minute, and avoid sesame oil as it has a low smoke point so you will lose the fragrant, nutty flavour. Instead drizzle it on afterwards. Use groundnut or vegetable oil.
2. Cooking meat and vegetables together
For those that prefer to add meat, it's tempting to throw everything in together or cook the meat for a bit first then add the vegetables.
However, by doing either of these you are committing a Chinese cooking faux-pas. Overloading your wok with meat cools the wok and simmers the meat in its juices rather than frying it, leaving you with overcooked and chewy meat.
The recommended way is to place the meat into the pan with the heated oil, allow it to brown on one side then stir it around the pan until the rest of it has browned and nearly cooked.
Then remove the meat from the pan and place on a side plate, with the oil re-heated then cook your vegetables and re-add the meat to the pan at the very end.
3. Overcrowding
Meat should always be laid out flat in the pan.
If you have a lot of meat to cook, try doing it in two goes rather than bundling the meat up on top of each other in one go, as this can lead to both undercooking or overcooking.
4. Uneven ingredients
When the ingredients have cooked unevenly, this is because they haven't been cut to an equal size (both meat and vegetables).
This means some of the ingredients will cook quicker than others, which can cause some to burn, adding a bitter flavour to your final dish.
5. Using the wrong ingredients
For the best results, marinate your meat ahead of time for 15-20 mins. You can use oyster sauce, black bean garlic sauce or simply just light soy sauce.
When using soy sauce remember that light soy sauce is used for flavour and dark soy sauce adds colour.
Ken Hom's Stir-fried Pork with Black Bean Garlic Sauce
• Serves 4
• Preparation time: 10 minutes, plus 20 minutes marinating time for the pork
• Cooking time: 10 minutes
Ingredients:
For the main dish:
500g lean pork
3 tbsp Lee Kum Kee Black Bean Garlic Sauce 
1 tbsp Lee Kum Kee Pure Sesame Oil
1 ½ tbsp groundnut or vegetable oil
1 tsp caster sugar
For the marinade:
1 tbsp Lee Kum Kee Double Deluxe Soy Sauce
2 tsp Lee Kum Kee Pure Sesame Oil
3 tbsp spring onions, finely chopped
1 tbsp shallots, sliced
2 tsp Lee Kum Kee Double Deluxe Soy Sauce 
1 tbsp chicken stock or water
For garnish: 
Sliced spring onion
1 tbsp. Shaoxing rice wine or dry sherry
1 tsp cornflour
• Method:
1. Cut the pork into thin slices 5cm long. Put the slices into a small bowl and mix them well with the Shaoxing rice wine or dry sherry, soy sauce, sesame oil and cornflour. Let them marinade for about 20 minutes.
2. Heat a wok or large frying-pan until it is hot. Add half of the oil and when it very hot and almost smoking, lift the pork out of the marinade with a slotted spoon, put it in the wok, and quickly stir-fry it for about 2-3 minutes. Then transfer to a colander set on a bowl.
3. Wipe the wok clean, re-heat it and add the rest of the oil. Then add the spring onions and shallots. A few seconds later add the rest of the ingredients except the sesame oil. Bring the mixture to a boil and then return the pork to the wok or pan.
4. Stir-fry the entire mixture for another 3 minutes and then drizzle with the remaining sesame oil. Transfer onto a platter, top with spring onions and serve.
This article was first published on Daily Mail and is republished here with permission