'I love being bald': Young girl with Alopecia embraces her condition in the most beautiful way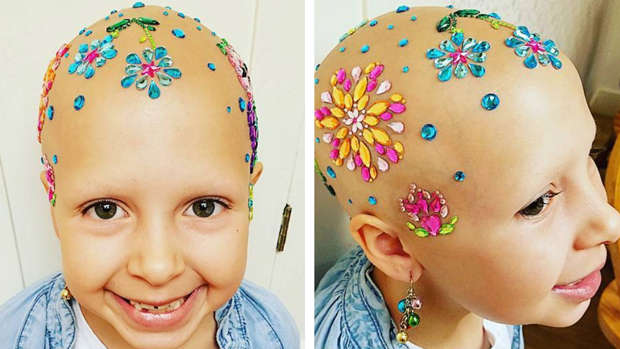 When she was just seven-years-old Gianessa Wride was diagnosed with alopecia.
The autoimmune disease - which has no cure - meant that she lost all of her hair.
"January 1, 2017, I found Gianessa's first patch while brushing her hair after bath time," Gianessa's mother Daniella revealed on Instagram. "It just kept coming out into her hairbrush. Fast forward 21 days and 90 per cent had already fallen out before we could get into a dermatologist. I felt so helpless and at such a loss. Trying to explain this to a then 7-year-old was difficult. But Gianessa being who she is, was bright and optimistic."
And that optimism stayed with Gianessa who decided to not let her diagnosis hold her back, especially when her school held their 'Crazy Hair Day'.
The brave young girl decided to decorate her bald head with colourful sticker-jewels, completely bedazzling it.
How stunning does she look?!
Gianessa - now 9-years-old - says she actually "loves being bald" because of how creative she can be turning her head into a piece of art.
"I was sad at first when I lost all my hair," she told PEOPLE Magazine. "But now I love being bald. I can do things to my head that other kids can't. I'm thinking now it might be fun to decorate my head with some sparkly butterflies and flowers."
Daniella describes her daughter as a "courageous, brave, thoughtful young woman" on Instagram.
"Life hasn't been the easiest in some ways for her," the post read. "Yet, she has this infectious way of making others believe in themselves and helps them accomplish great things. She leads others on adventures and will speak out boldly for things that she is passionate about. She has this warmth about her. I just love her."
This little girl's spirit is truly beautiful!