Mother outraged after her toddler's shoes were TAPED on by daycare staff
Publish Date

Friday, 25 May 2018, 7:30AM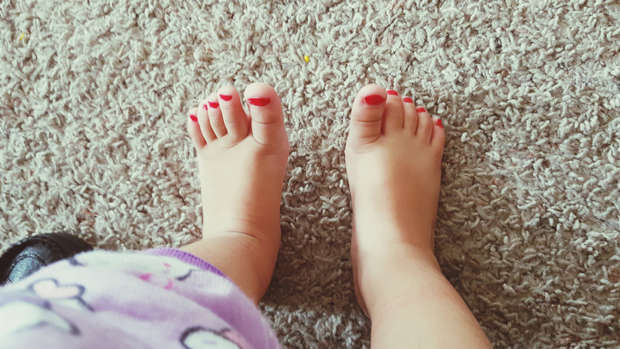 A mother has shared shocking photos of her daughter's bruised ankles after nursery workers taped the toddler's shoes to her feet.
"Disturbed" Jessica Hayes, from North Carolina, had been to collect her daughter from Pleasant Hill Daycare after a day at work and was horrified to find her daughter's shoes secured to her feet with masking tape.
According to the mother the daycare staff had been "aggravated" by the fact the youngster kept removing her shoes, the Daily Mail reports.
She took to Facebook on Wednesday last week where she shared the photos of her 17-month-old, and told how she believed a member of staff had "done it out of being aggravated" by her daughter removing her shoes.
Captioning the snaps Jessica wrote: "Does anyone see an issue with this? And am I the only one?"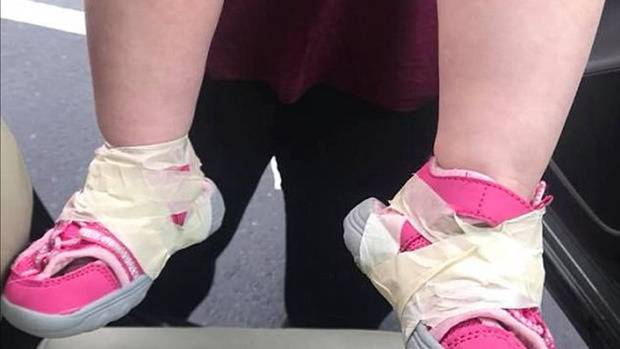 Photo / Facebook
The mother also shared snaps of the tot's feet once the shoes had been removed showcasing marks from the tape and bruising along her ankle.
The images provoked a surge of outrage from fellow parents who encouraged Jessica to report the incident.
One wrote: "I work in childcare and this is nowhere near okay! Report this, and do not let it go!! This sickens me!!!"
Another agreed adding: "There is NO way they should be able to get away with something like this."
Responding later Jessica revealed that action had since been taken since she had reported the incident.
Writing on Facebook she said: "I am upset that this happened to my child as someone was clearly upset that she was learning take her shoes off and done it out of being aggravated. This was also not just her shoes being taped up it was around her ankle.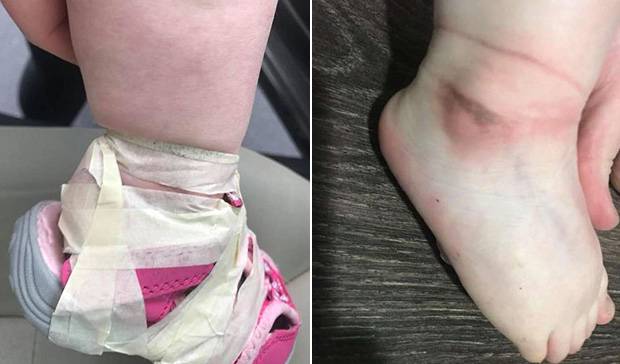 Photo / Facebook
"I appropriately reacted and went straight to the director who was just as speechless as I was. I then went to take the tape off and my daughter was crying as this was obviously uncomfortable to her.
"I proceeded to call and speak with the director to inform this has left marks on my child. Pleasant Hill Daycare as well took appropriate action and dismissed the two employees involved.
"There was a note to all parents to make aware an incident did occur, this note did not state names or exactly what happened as it shouldn't."
Commenting on the incident director of Pleasant Hill, Maehsell Marley told WXII: "Pleasant Hill Day Care in no way condones or allows any practice that would be harmful to a child.
"We have an outstanding group of caregivers who strive to meet the highest of expectations on a daily basis for the children in our care, and what occurred in the shoe-taping incident is not a representation of who we are."
This article was first published on Daily Mail and is republished here with permission.