Pregnant mum hits back at trolls after flaunting insanely flat stomach at nine months
Publish Date

Friday, 5 January 2018, 12:11PM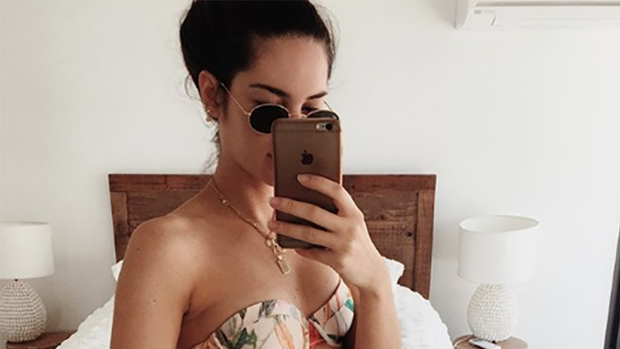 She has a figure most people would envy, but looking at her you'd never guess she was nine months pregnant.  
Australian fashion designer Yiota Kouzoukas has made headlines around the world after showing off a tiny baby bump when she's full term in her first pregnancy.
After posting photos of her stomach on social media Kouzoukas was flooded with people commenting on her appearance saying "is this for real, your bump looks so small". 
Kouzoukas has hit back at the trolls saying she felt she had been forced to reveal "a few things about her body" in the hope that people would be less judgemental. 
Taking to Instagram she explained her past endometriosis surgeries — along with the tilt of her uterus and her naturally taut stomach — made her pregnancy somewhat unnoticeable. 
She wrote: "For the first 4 months of my pregnancy, my uterus was retroverted/tilted which means that I was growing backwards into my body rather than outwards.
"Most people with this type of uterus tilt forward at around 12 weeks and continue growing outwards like you normally would.
"My uterus didn't 'flip forward' until well into being 4 months pregnant because of the backwards tilted position paired with decade old endometriosis scarring that I have on my uterosacral ligaments." 
She added: "My torso is also short and my stomach is naturally toned which is keeping my belly super tight, so I've had to personally stop all ab exercises to avoid any issues with possible ab separation."
"I'm perfectly healthy, baby is perfectly healthy and that's all that matters," she said.
"Our bodies and bumps are all different and our shapes and sizes are all different too."
Preach it sister!