Study reveals babies who feed themselves become less fussy eaters
Publish Date

Tuesday, 11 July 2017, 7:46AM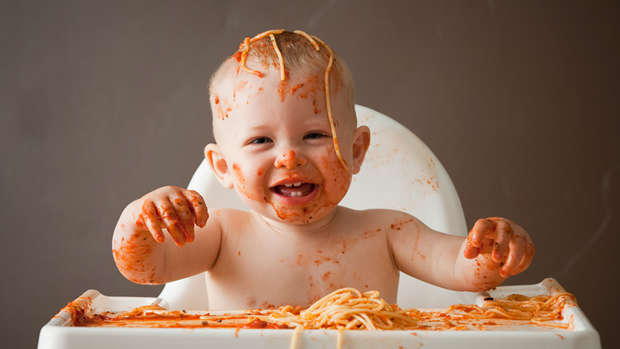 Babies who feed themselves as soon as they have started eating solids appear to be less fussy eaters, new research has found.
A University of Otago study, published in the international journal JAMA Pediatrics, looked at whether allowing infants to control their food intake by feeding themselves solid foods instead of traditional spoon-feeding, would reduce the risk of becoming overweight up to age 2.
The study, led by Professor Rachael Taylor and Associate Professor Anne-Louise Heath, found no difference in body weight or energy intake between spoon feeding and baby-led weaning (BLW) but did find other benefits.
Taylor said it did provide evidence that babies who fed themselves from the start had a better attitude towards food and were less fussy about food than the spoon-fed children in the study.
"The BLW infants in our study were more likely to show they were enjoying their food and to be less picky eaters," she said.

"We also found no evidence for previous suggestions that infants following a baby-led approach may not eat enough food and no sign that they were underweight."
The randomised clinical trial of 206 mothers involved assigning 105 of them to an intervention that included support from a lactation consultant to extend exclusive breastfeeding and delay the introduction of complementary foods until 6 months of age - the point at which infants are considered developmentally ready to self-feed.
Dunedin mother-of-three Holly Chapman, 30, took part in the study with her oldest child, who is now 3, and was such a fan of the process she used the same method with her younger children, aged 2, and 7 months.
"I was interested in them eating what we eat and the ease of not having to be pureeing food and having to take it with us. We just gave them what we had," she said.
When asked about the risk of choking, Chapman said figures showed it was very uncommon and her experience had proved how safe it was.
"You have to supervise obviously. With our two girls, we had given them big strips of rare steak and watched them and they'll try to swallow them and then they just pull them out again. They learn about their gag reflexes a whole lot faster so we've never had a choking incident with our kids."
Chapman said she had read about kids developing better motor-control by picking up the food and having to learn to chew it and move it around their mouths.
Her two eldest children started speaking early and had good vocabularies, which she put down to the early development of motor skills through eating solids.
The one downside was the "mess factor" involved in letting children feed themselves from such a young age, she said.
"The benefits definitely outweigh the negatives," she said.
This article was first published on NZ Herald and is republished here with permission.