The heart breaking reason this husband has learned how to style his wife's hair
Publish Date

Thursday, 31 May 2018, 11:30AM
A devoted husband has captured the hearts of thousands after learning how to style his wife's hair because she can no longer do it herself.
Andrew's wife of 45 years, Theresa, suffered a stroke 18 years ago, which left her with limited mobility. When Theresa fell in love with a hairstyle she was unable to replicate on her own, he was determined to do it for her.
The Foundry Salon in New Braunfels, Texas, took to Facebook to share a video of hairstylist Andrea Gomez teaching Andrew how to style Theresa's hair — and the heartwarming footage has been viewed more than 9.2 million times, according to the Daily Mail.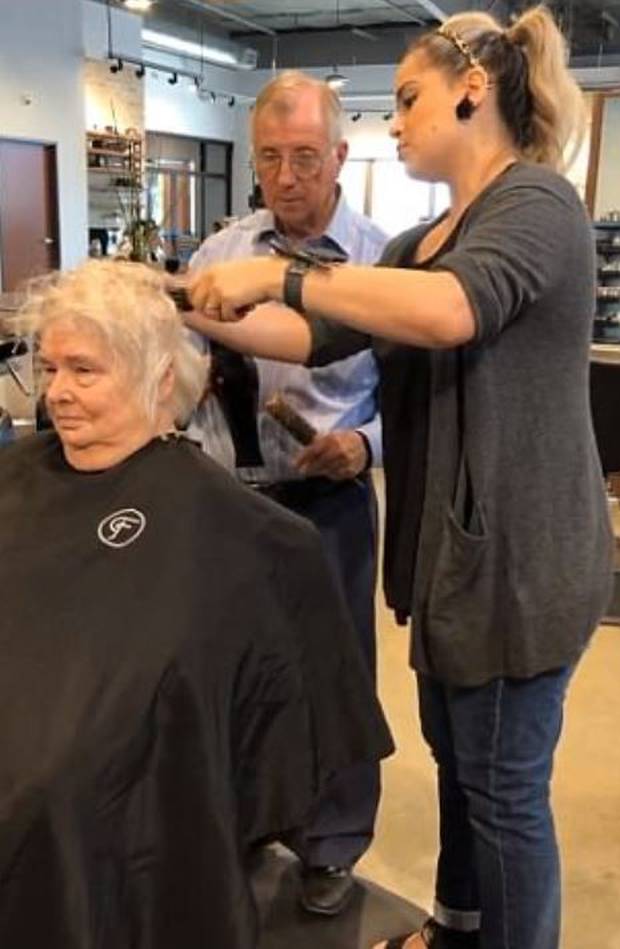 Photo / Facebook
It all started when the couple's three children surprised Theresa with a gift certificate to the salon for Mother's Day.
Their mum fell in love with her new hairstyle, but was disappointed she was unable to replicate it after her shower the next morning.
Knowing how happy the hairstyle made his wife, Andrew decided to go back to the salon to try to get tips on how to do it himself.
When Gomez realised what he was trying to do, she offered to give him a step-by-step lesson on how to do his wife's hair.
They returned to the salon the next day, and while Gomez showed him how to style Theresa's hair, Raigen Kelley, another stylist at the salon, captured the moment on video.
In the clip, Andrew can be seen holding a hairdryer while Gomez demonstrates how to use a round brush to curl Theresa's hair.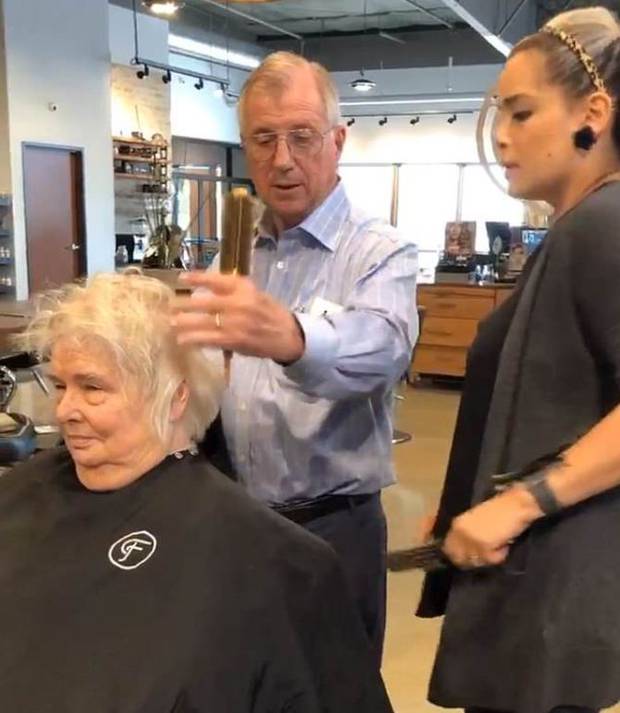 Photo / Facebook
"I just thought she was going to show me a few things with the hair blower, how to use it, with the brush and stuff too keep it with nice volume. And all of a sudden it ends up being a 45-minute lesson," Andrew told KENS 5.
When Kelley shared the video on her Facebook page, she explained it is "proof that true love really exists".
"[It was] truly one of the best things I have been able to witness in my life," she wrote. "[It] brought tears to my eyes. What an amazing man and what a lucky woman."
The couple's son Steve told Today his father has never once complained about being Theresa's caretaker since her stroke. He even found a job as a bus driver three years ago, which allows him to take care of his wife during the day.
"He goes to work at six and gets off at 8:30, gets home and gets her breakfast, fed and bathed," Steve said. "They do lunch, and then he goes back to work from two to five, then he comes home for dinner and takes care of her and gets her ready for bed."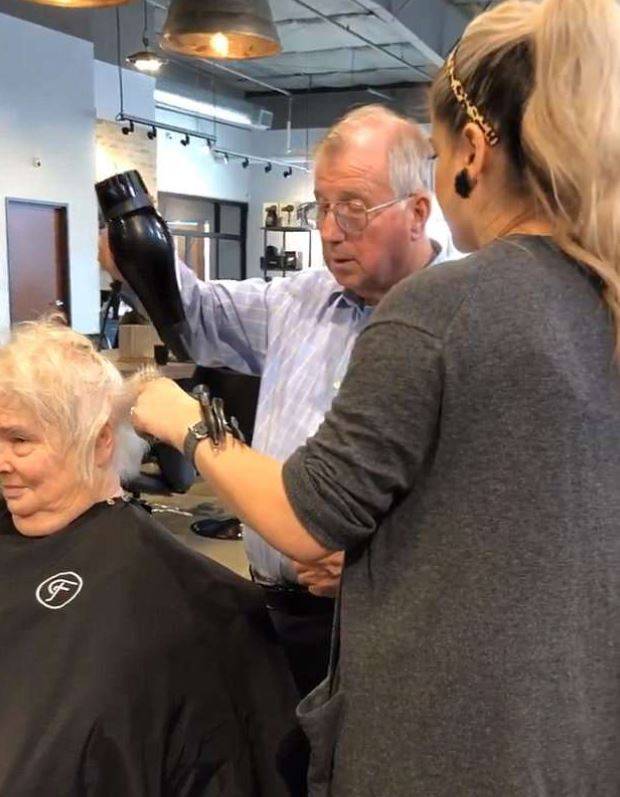 Photo / Facebook
Andrew told KENS 5 that Theresa took care of their children when he was travelling for work, and this was just another example of their give-and-take relationship.
The couple didn't even know what Facebook was until their son explained it to them, so they were understandably surprised and overwhelmed by the response to their story. However, they are happy to see that it is having a positive impact on people.
"This type of story may help some people, may get to them and touch them in a way that they just need to work a little harder with their relationships," he said. "You gotta just make things happen, instead of just giving up."
This article was first published on Daily Mail and is republished here with permission.