The heartbreaking reason this mother lost her stillborn son
Publish Date

Wednesday, 28 June 2017, 11:20AM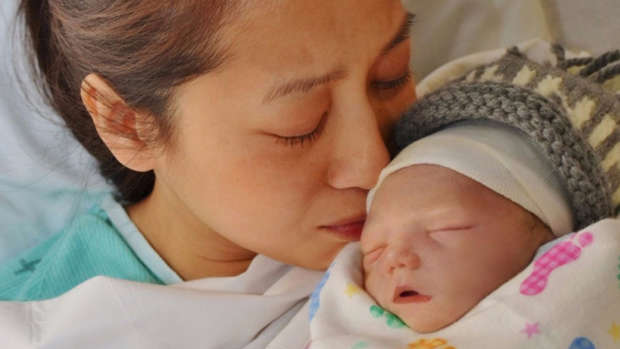 Warning: Story contains graphic content
For Loan Woll, giving birth to her stillborn son Finnick in January was the worst thing she could ever imagine. 
The expecting mother from Ontario, Canada, had been battling low haemoglobin levels throughout her pregnancy. At 34 weeks she began throwing up clots of blood, and within hours, doctors couldn't find the baby's heartbeat, according to the Daily Mail.
Days later, doctors delivered more crippling news to the 31-year-old as she and her husband mourned the death of their first-born: she had a rare stage 4 cancer, which was the root cause of Finnick's death. 
Woll has non-Hodgkin lymphoma, which caused an undetected stomach tumour to grow before it slowly bled out into her belly for months.
After months of treatment, Woll's doctors said there is no sign of cancer. Now, she is waiting for her labs to come back as cancer-free while she continues to raise funds for cancer patients and parents of stillborn babies.
Woll, a dispatch manager, and her husband Benjamin Woll were ecstatic when they learned in June 2016 that she was pregnant.
It was welcome news after Woll had suffered a miscarriage just a few months before on Easter Sunday.
But in November, Woll was told she had an extremely low haemoglobin level - in the high 50s, compared to an average level of 115.
Woll said to The Sun: "At the hospital, they couldn't believe that I was stood up, let alone going into work every day with such low haemoglobin levels.
"Most people would have been lethargic and probably confined to bed with it. Yet I had walked in the room and I felt fine."
Doctors thought the levels were caused by anemia in pregnancy and prescribed her five rounds of iron infusions before she was sent home.
Then on January 13, when Woll was 34 weeks pregnant, she knew something wasn't right.
She began vomiting blood and screamed for her husband to take her to the emergency room.
She added to The Sun: "I just felt horrendous. Suddenly, it came over me and I grabbed the bin where I threw-up massive blood clots. It was horrific – like something out of a movie. 
"I was throwing-up so much blood that I felt like I could be dying but all I could think about was my unborn baby."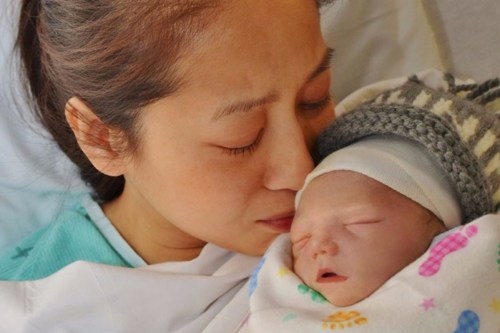 Doctors told Woll she had lost as much blood as a stabbing victim and immediately began giving her blood infusions.
When she was finally in stable condition, they went to check on the unborn baby, but couldn't find a heartbeat.
She gave birth to Finnick on January 14.  
Woll said: "I was in so much shock I didn't know what to do. He was perfect in every way and we're so thankful to have met him.
"There are few words to describe the devastating loss of a child. I held on to Benjamin and we cried and cried. 
"Nothing could have prepared me for what had happened."
A few days later Woll was diagnosed with stage 4 non-Hodgkin Lymphoma.
Lymphoma is a type of blood cancer that affects the lymphatic system, an important part of the immune system.
The lymphoma can often appear as a lump or mass in the tummy area, which can cause pain and swelling, nausea and diarrhoea. 
It is more common in older people, with one in six sufferers over the age of 65. 
The cancer had spread to her stomach and a tumour had been bleeding out for months, which was causing her low haemoglobin levels.
Woll added: "My baby had died because when I was throwing up the blood, my body went into self-preservation [mode] to make sure my blood got to the parts of my body that needed it the most – my heart.
"That meant that the blood supply to Finn's placenta got shut off and without it, he died."
Woll immediately began her cancer treatment, with five rounds of radiation to shrink her tumours and six rounds of chemotherapy to rid her body of the disease. 
Now Woll has to wait for a few more tests to come back clean before she is officially in remission but she is hopeful of the results.
She is also spending her time raising money for charities supporting cancer patients and families who had a stillborn child. 
In three months, Woll has raised more than $60,000 for a variety of charities and she doesn't plan to stop. 
She added to The Spec: "Tragedies happen, definitely. But you're not alone.
"Our hope is that, down the road, we might encounter someone we can really help."
This article was first published on Daily Mail and is republished here with permission.