The heartbreaking reason this teen needed 13-hour hairstyling session
Publish Date

Monday, 14 August 2017, 8:42AM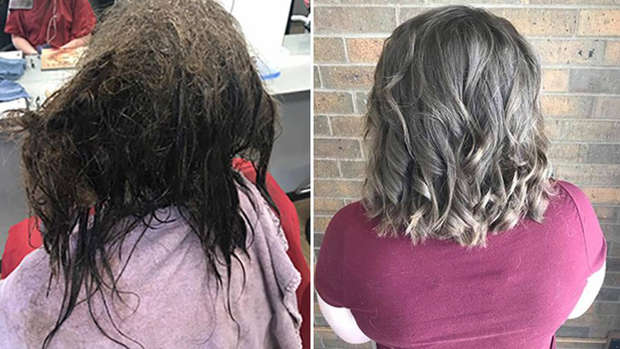 A hairstylist in the US has gone viral with a Facebook post showing the before and after photos of the hairstyle of a teenager with depression.
The teenager's hair was a big mess of knots as her depression meant she was hardly getting out of bed and never bothered to comb her hair.
The girl visited the salon because she had to take school photos and said she didn't care if she had to cut all her hair off.
The hairstylist refused to let that happen and, instead, worked a full 13 hours on the girl's hair, untangling every single knot and styling it for the photos.
"Today I had one of the hardest experiences with my client who I am keeping anonymous, I had a 16-year girl come in with who has been dealing with severe depression for a few years now. She got to the point where she felt so down and so worthless she couldn't even brush her hair, she told me she only got up to use the restroom," hairstylist Kayley Olsson wrote on Facebook.
"She starts back at school in a few weeks but she has her school pictures today. When she walked in she told us just cut it all off I can't deal with the pain of combing it out, she called herself worthless for it. It honestly broke my heart and we tried everything we could to keep this child's hair for her! At the end of the day I want this to be a lesson to people," she added.
The 16-year-old spent eight hours at the salon on August 8 and returned the next day for another five hours.
With perfectly curled hair, the girl finally found a reason to smile again.
The hairstylist said the last words she heard from the girl were "I will actually smile for my school's pictures today, you made me feel like me again".
The powerful Facebook post has since gone viral, with more than 150,000 likes and 64,000 shares, with thousands of people praising the hairstylist's determination to save the girl's hair.
WHERE TO GET HELP:
If you are worried about your or someone else's mental health, the best place to get help is your GP or local mental health provider. However, if you or someone else is in danger or endangering others, call police immediately on 111.
OR IF YOU NEED TO TALK TO SOMEONE ELSE:
• LIFELINE: 0800 543 354 (available 24/7)
• SUICIDE CRISIS HELPLINE: 0508 828 865 (0508 TAUTOKO) (available 24/7)
• YOUTHLINE: 0800 376 633
• NEED TO TALK? Free call or text 1737 (available 24/7)
• KIDSLINE: 0800 543 754 (available 24/7)
• WHATSUP: 0800 942 8787 (1pm to 11pm)
• DEPRESSION HELPLINE: 0800 111 757
This article was first published on NZ Herald and is republished here with permission.