The Hits' top 3 life hacks for going back-to-school...
Publish Date

Tuesday, 23 January 2018, 3:59PM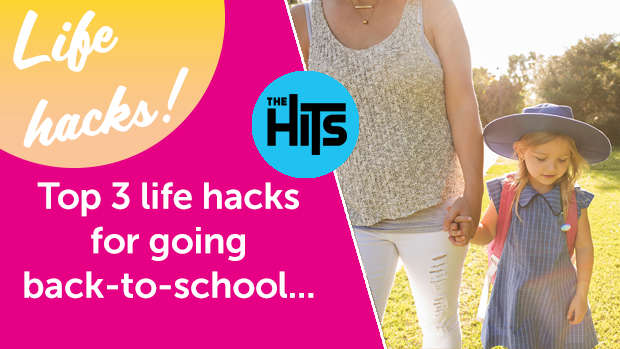 For most children across the country, the countdown is on again.
That's right. There's not many sleeps to go until school starts!
And let's be honest... You, as a tired parent, are counting down to that exciting day too.
You've got their uniforms all sorted, they're kitted out with stationary and the new school bag that Santa delivered is sitting packed ready to go!
But, if you're finding getting organised for the school run stressful, here are three amazing life hacks we've picked up over the years...
Break in new shoes fast by blow-drying them.
We all know this scenario...

Your child loves the shoes in the store, but as soon as you get home, they have a tantrum about how much the shoes hurt or don't fit properly.

Luckily, we have a solution:
Put thick socks on your kid's feet and then stuff their foot into the shoe. Next, use a blow wave to heat up the shoe.

Voila! The shoes will be broken-in in no time!


Keep kids moving in the morning with a timer.
Want mornings to move like clockwork?

Turn getting ready into a game for the little ones.

Set up a timer and give them time limits to complete individual tasks.

Or, make a morning playlist and set a task per song.

Clean teeth to one tune, get dressed to an other.

The theory is that it will help keep your child on track, and the music should get the day off to a cheery start too.


A new twist on the lunchbox icepack.
Create your own ice pack with frozen foods.

Think fruits, cocktail sausages, sandwiches, and juice boxes.

By the time your kids eat lunch, the food will be thawed, fresh, and ready to eat.

Plus, there won't be a drippy ice pack for you to deal with when they get home.


Better living everyone!