The very best New Zealand restaurants of 2019 have been revealed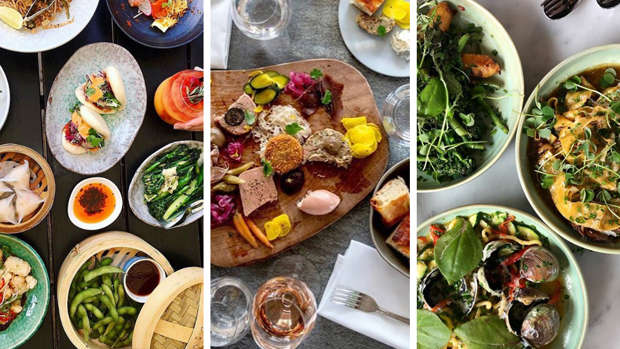 We all love a good night out at a restaurant, but sometimes it can be hard to know which one to choose.
Thankfully we now have the list of New Zealand's very best places to dine of 2019.
The annual list from Cuisine Good Food Guide is comprised this year of 108 eateries from across Aotearoa.
"Cuisine's commitment to finding the best dining experiences is stronger than ever, and the increase in restaurants on this year's list reflects the growing high standard and quality of New Zealand restaurants," says Kelli Brett, Cuisine editor and co-director. 
"The Cuisine Good Food Guide will provide food lovers with a terrific overview of the talents behind the restaurants that are pushing the envelope in New Zealand."
We're definitely adding more than a few of them to out dining bucket list!
Cuisine Good Food Guide Top 108 List 2019 (In alphabetical order)
Amano – Auckland
Amayjen – Manawatu
Amisfield Bistro – Central Otago
Antoine's – Auckland
Aosta – Central Otago
Apéro – Auckland
Arbour – Blenheim
Atlas – Wellington
Baduzzi – Auckland
Bellamys by Logan Brown – Wellington
Bistronomy – Hawke's Bay
Bistro Gentil – Central Otago 
Black Barn – Hawke's Bay
Black Estate – Canterbury
Botswana Butchery – Queenstown 
Boulcott Street Bistro – Wellington
Bracu – Auckland
Capitol – Wellington
Cassia – Auckland
Cazador – Auckland
Chameleon – Wellington
Charley Noble – Wellington
Chillingworth Road – Canterbury
Cibo – Auckland
Coco's Cantina – Auckland
Cocoro – Auckland
Cotto – Auckland
Craggy Range Restaurant – Hawke's Bay
Cucina – Oamaru
Culprit – Auckland
Depot – Auckland
Dragons – Wellington
Egmont Street Eatery – Wellington
Elephant Hill – Hawke's Bay
Euro – Auckland
Federal Delicatessen – Auckland 
Field & Green – Wellington
Fishbone Bar & Grill – Queenstown
Fleurs Place – Moeraki
Gatherings – Canterbury
Gemmayze Street – Auckland
Giraffe – Auckland
Great India – Wellington
Gusto at the Grand – Auckland
Harbourside – Auckland
Harbour Society – Auckland
Hello Beasty – Auckland
Hiakai – Wellington
Hillside Kitchen & Cellar – Wellington
Hippopotamus – Wellington
Hopgood's & Co – Nelson
Huami – Auckland
Hugo's Bistro – Auckland
Inati – Canterbury
Kazuya – Auckland
Kika – Central Otago
Lillius – Auckland
Logan Brown – Wellington
Loretta – Wellington
Madame George – Auckland
Masu – Auckland
Mister D – Hawke's Bay
Moiety – Dunedin
Nanam – Takapuna
Noble Rot – Wellington
No 7 Balmac – Dunedin
O'Connell St Bistro – Auckland
Ode Conscious Kitchen – Central Otago
Orphans Kitchen – Auckland
Ortega Fish Shack – Wellington
1154 Pastaria – Wellington
Pacifica – Hawke's Bay
Palate – Waikato
Paris Butter – Auckland
Pasta e Cuore – Auckland
Pasture – Auckland
Pegasus Bay – Canterbury
Pescatore – Christchurch
Phil's Kitchen – Auckland
Ponsonby Road Bistro – Auckland
Prego – Auckland
Rata – Central Otago
Rita – Wellington
Riverstone Kitchen – Oamaru
Rothko – Matakana 
Salty Pidgin – Wellington
Scotch Wine Bar​ ​– Blenheim
Shepherd – Wellington
Sherwood – Central Otago
Sidart – Auckland
Sid at the French Café – Auckland
Soul Bar & Bistro – Auckland
Spring Kitchen – Wellington
The Bicycle Thief – Canterbury
The Bistro – Taupo
The Engine Room – Auckland
The Grange – Auckland
The Grill by Sean Connolly – Auckland
The Grove – Auckland
The Hunting Lodge – Auckland
The Shed at Te Motu – Waiheke
The Tasting Shed – Auckland
Three Seven Two – Waiheke
Twenty-Seven Steps – Christchurch
Union Square – Wellington
Urban Oyster Bar & Eatery – Nelson
WBC – Wellington
White + Wong's – Auckland