These incredibly useful kitchen hacks that will save you time and money
Publish Date

Friday, 12 May 2017, 1:37PM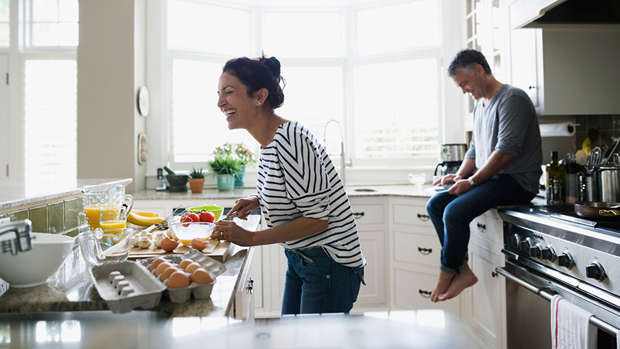 As any family knows, grocery shopping is costly, so any way you can save a few dollars will always come in useful.
Not only will this list of handy kitchen hacks save you some money, but they will also save you valuable time and make your kitchen life easier, according to the Daily Mail. 
From keeping bananas ripe for longer using glad-wrap to swapping ice cubes for frozen coffee or grapes to keep drinks cool, these tips from money-saving experts at The Money Shop may well come in handy next time you get in the kitchen.
1. FREEZE COFFEE FOR ICED DRINKS
If you like your daily caffeine fix cold and refreshing, there's nothing better than an iced coffee. 
To keep it chilled, fill your ice cube tray with coffee instead of water so it doesn't dilute the flavour.
2. KEEP COOKIES FRESH
If you've made a large batch of cookies and want them to last longer, a handy tip is to add a slice of bread into the container.
It allegedly keeps in the moisture and helps your cookies keep for longer. 
3. KEEP BANANAS RIPE
To keep your bananas ripe for longer, wrap cling film around the top of your bananas, making sure to replace every time you snap one off the bunch. This can keep them fresh for up to four or five days longer.  
4. FREEZE GRAPES FOR CHILLED WINE
The biggest faux pas when it comes to white wine is serving it warm. For hot days or when you simply haven't had time to chill your wine, try freezing fresh grapes.
Green is best for this tip, and then just add them to your glass instead of ice cubes as they prevent your drink from being watered down.
5. NEUTRALISE SMELLS WITH CHARCOAL
Charcoal can be used for more than just a BBQ. 
Any left over briquettes can be put onto a plate and put in the fridge. It's a great neutraliser and will get rid of any unwanted odours.
6. USE AN EGG CRATE TO STOP OVERHEATING LAPTOPS
If you put your laptop through its paces it can overheat. 
But you can prevent this with a little-known, and somewhat bizarre, hack.
Place an empty egg carton beneath the device. The space between each egg holder allows air to flow underneath, cooling the laptop down. 
This article was first published on Daily Mail and is republished here with permission.