This genius Kmart kids sandpit hack is going viral for good reason!
Publish Date

Monday, 13 November 2017, 9:50AM
Summer is finally on its way! Which means long days under the sun with family and friends.
And while we strive to keep our children safe and sun smart, it can sometimes be a tad tricky - especially with little ones who constantly pull their hats off.
But this genius Kmart sandpit hack will keep the kids busy, all while being protected under shade!
Simply pick up a $10 Hideaway Tent from Kmart and pop some $8.40 play sand in the bottom from Bunnings.
And voila!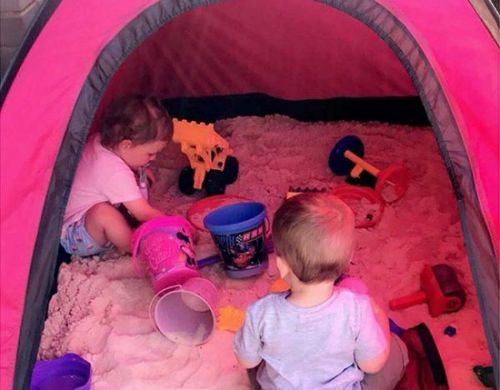 Photo: Facebook
Australia's Krystal Findlay, who is mum to twins Ethan and Ava-Rose, posted her portable outdoor sandpit play area creation on Facebook.
As a mum I was thinking how can I still let them have fun and protect them from the sun," Krystal said.
"I purchased the tent because we were going camping and I used it to put their toys in so they had somewhere to play still and had shade.
"That's when it dawned on me to use it when we got home for their sandpit. They love it and I'm happy because not only do they have more room to play but they have shade."
And not only does her 'invention' protect her kids from the sun - it can also be zipped up so no bugs or cats can get in.
"Great idea, best yet," one mum wrote.
"I'm stealing this idea for daughters 2nd birthday," another added.
It's no wonder parents all over the internet are going crazy for this idea!