This giant Rolo cake recipe is heaven on earth!
Publish Date

Friday, 18 August 2017, 12:13PM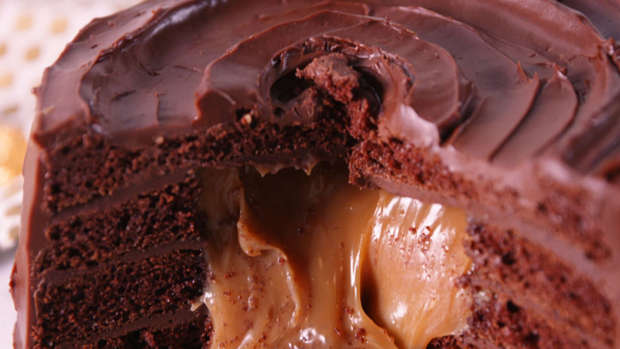 Everybody loves Rolos... And this cake is about to take your love to the next level.
Just look at that caramel!!!

Serves: 8-10
Ingredients:
1 box devil's food cake mix
450g caramel
1½ cup heavy cream
3 cup chocolate chips
Method:
Preheat oven to 180°. Line four 8" cake pans with parchment paper then grease with cooking spray.
Prepare cake batter according to package instructions, then divide batter between pans.
Let cakes cool for 10 minutes.
Using a 4" biscuit cutter, cut out the centers from two cakes.
Freeze all cakes for about an hour.
Place chocolate chips in a medium, heatproof bowl and set aside. Heat heavy cream in a small saucepan over medium heat. When it begins to boil turn off the heat and pour over chocolate chips, whisking constantly until the sauce is smooth.
Place the first full cake layer on a serving platter then spread a thin layer of ganache on top.
Top with a cutout layer, then spread ganache around the hole.
Top with the second cutout layer and spread ganache around the hole.
Pour caramel into the hole, then cover with the second full cake layer.
Using a serrated knife, carve around the edges of the cake to form the shape of a Rolo. Cover the entire cake with ganache, then pipe ganache around the center of the cake to mimic a Rolo.
Refrigerate for at least 15 minutes to let the ganache set before serving.
To watch the recipe's video, click here.
Source: www.delish.com