This is where you can find the most delicious pies in New Zealand
Publish Date

Wednesday, 2 August 2017, 12:13PM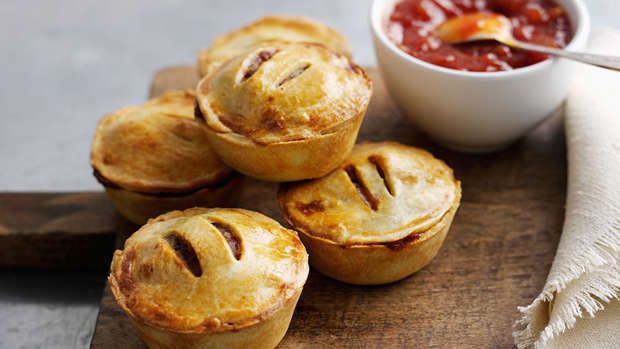 Us Kiwis love our pies and we're always on the hunt for the tastiest morsels.
Now the location of where to find the best pie in New Zealand has been revealed.
A delicious venison, mushroom, bacon and cheese pie won the hearts of judges at this year's NZ Bakels Supreme Pie Awards, taking out the top honour.
The meat pastry was baked Lee Ing of Fast & Fresh Bakery in Taupo.
Celebrity chef judge, Sean Connolly praised the pie describing how "the flavours worked together to just melt in the mouth with a perfect pastry casing."
Sounds (and looks) absolutely scrumptious!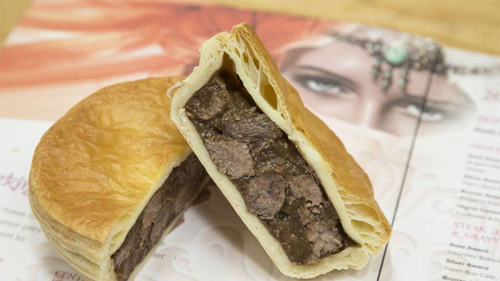 The supreme award winning venison, mushroom, bacon and cheese pie from Taupo's Fast & Fresh Bakery. Photo/Supplied
FULL LIST OF WINNERS: 
SUPREME WINNER: Fresh & Fast Bakery, Taupo (venison, bacon, mushroom and cheese)
MINCE & GRAVY
Gold: Crown Bakery & Coffee, Pukekohe 
Silver: Counties Bakery, Pukekohe
Bronze: Richoux Patisserie, Auckland
Highly commended: Pak 'n' Save, Petone
STEAK & GRAVY
Gold: Viands Bakery, Kihikihi
Silver: Dairy Flat Bakery, Albany
Bronze: Papamoa Bakery, Papamoa
Highly commended: Gold Star Pat's Pies, Tauranga
CHICKEN & VEGETABLE
Gold: Gold Star Pat's Pies, Tauranga
Silver: Nada Bakery, Wellington
Bronze: Viands Bakery, Kihikihi
Highly commended: The Bakehouse Cafe, Thames
GOURMET FRUIT

Gold: Dairy Flat Bakery, Albany (blueberry, apricot and apple)
Silver: Hastings City New World (walnut, zingy lemon, black doris plum, apple and lemon)
Bronze: Viands Bakery, Kihikihi (vanilla, ginger, pear and caramel)
Highly commended: Better Quality Pie, Rotorua (rhubarb, apple and lime)
GOURMET MEAT

Gold: Fast & Fresh Bakery, Taupo (venison, mushroom, bacon and cheese)
Silver: Gold Star Pat's Pies, Tauranga (pork, onion and cheese)
Bronze: The Clareville Bakery, Carterton (lamb cutlet, rosemary, lemon and kumara)
Highly commended: Hillside Bakehouse & Cafe, Auckland (chicken, cranberries and camembert)
VEGETARIAN

Gold: Richoux Patisserie, Takapuna (corn, carrot, potato and mushroom)
Silver: Spelt Bakery on Highgate, Dunedin (creamy mushroom)
Bronze: Mairangi Bay Bakery (pumpkin, kumara, potato, capsicum, cauliflower)
Highly commended: Baker Bob's Bakery Cafe, Tauranga (spinach, pumpkin, kumara and cottage cheese)
BACON & EGG

Gold: Gold Star Pat's Pies, Tauranga 
Silver: Samis Bakery & Cafe, Foxton
Bronze: Olivers Bakehouse & Cafe, Auckland
Highly commended: Champion Bakery & Cafe, Wellsford
MINCE & CHEESE

Gold: Richoux Patisserie, Takapuna
Silver: Crown Bakery & Coffee, Pukekohe
Bronze: Le Royal Bakery, Auckland
Highly commended: Pak 'n' Save, Petone
STEAK & CHEESE

Gold: Waihi Bakery, Waihi
Silver: Pak 'n' Save, Petone
Bronze: Richoux Patisserie, Takapuna
Highly commended: Target Bakehouse & Cafe, Pukekohe
POTATO TOP

Gold: Dairy Flat Bakery, Albany
Silver: Bakers Oven, Whangapararaoa
Bronze: Angkor Wat Bakery & Coffee, Waipukurau
Highly commended: Angkor Kiwi Bakery & Cafe, Napier
COMMERCIAL WHOLE/SALE

Gold: Dad's Pies, Hibiscus Coast
Silver: The Wholesale bakery, Wanaka
Bronze: Oxford Pies, Hamilton
Highly commended: Couplands Bakery, Christchurch
CAFE BOUTIQUE

Gold: Cafe Pret, Sockburn (steak, mushrooms, carrots & shallots)
Silver: Ed's Cafe, Wellington (steak and cheese)
Bronze: New World, Warkworth (beef, blue cheese and mustard) 
Highly commended: Kitchen Republic, Tauranga (gourmet beef and caramelised onion)