Watch the unbelievably sweet moment this couple propose to each other at the same time
Publish Date

Friday, 1 June 2018, 1:00PM
A proposal with a twist has gone viral on Twitter after a couple coincidentally planned to pop the question at the same time.
Research Assistant Becky McCabe and psychologist Jessa Gillaspie from Tennessee were visiting the Memphis Zoo where they shared their first date, and had both secretly planned to propose to one another.
According to the Daily Mail, after Jessa got down on one knee and pulled out a ring, Becky turned to rifle around in her bag to produce her own engagement band.
Jessa, who started dating Becky at the end of 2015, revealed that she had previously given her a 60-page diary listing all the reasons she wanted to marry her, with the first entry dating back to January 2016.
The couple are now happily engaged and are shocked by the response the video they shared to social media has had.
The touching clip, recorded as they were surrounded by close friends at the scene of their first date, starts with Jessa and Becky supposedly posing for a picture at the entrance.
Jessa then asks Becky for a "candid" picture of them talking, before kissing her and getting down on one knee.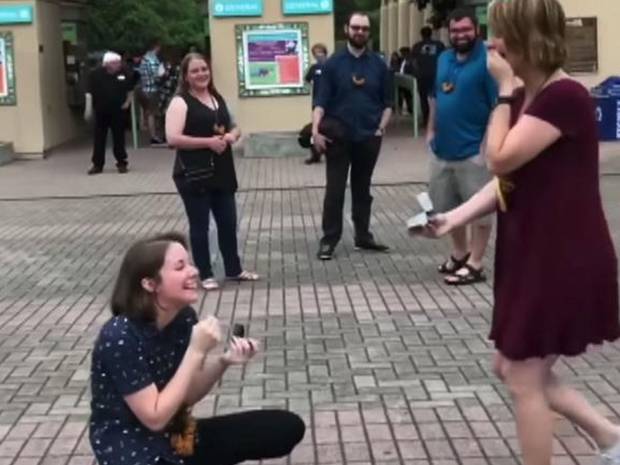 The couple both stared at each other's ring boxes in amazement. Photo / Youtube
Presenting a ring to her girlfriend, Jessa is seen asking "Will you marry me?" as Becky clutches her mouth in surprise before bursting into tears of joy.
However much to Jessa's confusion Becky then starts rifling around in her bag, as Jessa asks what she is doing.
'Oh my god!' Becky is seen exclaiming, as she pulls out her own ring from her bag and the happy couple burst into laughter, watched by astounded bystanders.
The couple both stare at each other's ring boxes in amazement before embracing each other in a happy hug.
And the touching video shared to Jessa's Facebook page quickly garnered 21,000 likes and over 16,500 shares.
Posting a lengthy caption alongside the viral clip, a thrilled Jessa wrote last week: "Becky McCabe and I got engaged Friday night at Zoo Brew!
"I had no idea she planned to propose, and she had no idea I planned to propose to her! We were both so surprised!
"We were surrounded by our friends and had the most amazing night. I am the luckiest girl in the world to be able to call her my fiancé."
Jessa then shared a picture of their intricately-cut engagement rings and a diary, revealing that Becky had written her a 60 pages letter of the reasons she wanted to marry her.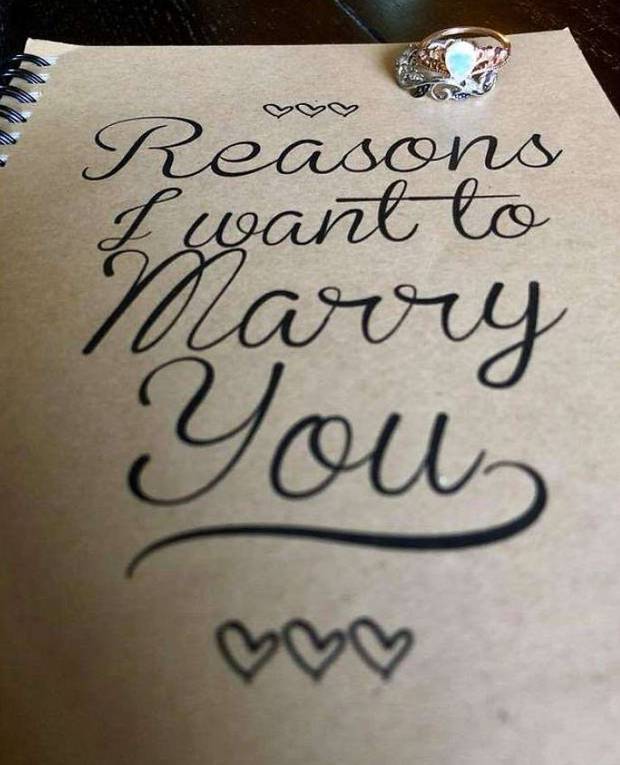 Becky wrote a 60 page letter detailing the reasons she wants to marry her partner. Photo / Facebook
Revealing their romantic back-story, Jessa wrote: "Five days ago the love of my life and I got engaged. It has to have been the best proposal that anyone could have asked for.
"As amazing as the proposal was, and however much attention it got, the best part was waiting for me when I got home as a surprise."
On returning home after their proposal, Jessa discovered that Becky had been keeping a diary of their love story.
She continued of the diary: "The book below Beck ordered from Etsy just a few months after we started dating. Her first entry started on January 17, 2016.
"Since then, she has listed all the reasons she wants to marry me followed by stories from our life that explained her reasons. There are over 60 pages of why another human loves me so much that she wants to spend the rest of her life with me.
"Since day one I knew she was perfect for me, and I wanted her to be by my side forever as my partner and best friend. I'm the most blessed woman in the world".
This article was first published on Daily Mail and is republished here with permission.