Woman diagnosed with pre-MS drops more than half her body weight
Publish Date

Monday, 19 March 2018, 10:30AM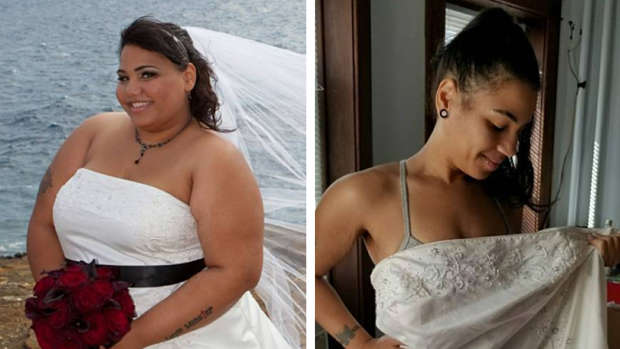 A woman who struggled with her weight for most of her life shed 150lbs (68kg) in three years after she went temporarily blind in one eye and was diagnosed with pre-multiple sclerosis.
At her heaviest, Katie Bolden, 31, from Joliet, Illinois, weighed 280lbs (127kg) and struggled with numerous health issues. In November 2010, she was diagnosed with polycystic ovary syndrome (PCOS), a hormonal disorder that made it difficult for her to conceive.
Although she knew she wanted to be a mum, it wasn't until she started showing symptoms for MS two years later that she vowed to get her weight under control, reported the Daily Mail.
On her blog Huff 'n Puff to Buff 'n Tough Katie explains the fear of becoming completely disabled made her realise she wasn't living her life the way she wanted to.
"I felt like this was a wake up call and a sign that I needed to get out and do the things I have always longed to do," she writes.
Katie started making adjustments to her diet while tracking her calories and macros using the My Fitness Pal app.
To keep herself on track, Katie followed the 80/20 rule, meaning she ate healthy foods 80 per cent of the time and she allowed herself to enjoy cheat meals 20 per cent of the time.
She reduced her sugar intake and weaned herself off fast food. When she first started, she enjoyed one cheat meal per week, but she eventually cut the treats down to one or two times per month.
"I started noticing the fact that I didn't want cheat meals as often anymore and saw better results only having them one to two times a month," she told PopSugar.
Katie also began incorporating workouts into her routine. She admitted that she could barely run for 30 seconds when she first started, but she worked to build up her endurance.
She was clocking in workouts four or five days each week, mixing up cardio and weightlifting for a healthy balance.
In addition to running, she would go swimming and hiking, two activities she really enjoyed.
Over the course of a year, Katie lost 75lbs (34kg) and was able to get pregnant with her daughter Harlie Jade after multiple fertility treatments.
The birth of her daughter was even more motivation for her to reach her fitness goals, and five months after she welcomed her daughter, she returned to her workout regimen.
Katie was also working towards her dream to compete in a bodybuilding competition. Over the course of three and a half years, she lost a total of 150lbs (68kg).
After losing the weight, Katie participated in a World Beauty Fitness & Fashion bodybuilding competition in the spring 2017, winning first place in the transformation division.
Katie, who has more than 39,000 Instagram followers, frequently shares before and after photos of herself.
She is candid about the excess skin that remains on her body, and while she plans on having it surgically removed in the future, she shows it off with pride.
In January, Katie shared a photo of her skin hanging from her stomach, writing: "I hope to get it removed in the future, but until then I most definitely will not be letting it stop me from living my best life and from being happy.
"I rock it with confidence most days, but still have my frustrations with it. It tells a story and it shows a transformation that has been made."
"After all my body has been through, how can I possibly hate it or any part of it for that matter?! Frustrated? Yes! Hate it? Absolutely not," she added.
This article was first published on Daily Mail and is republished here with permission.