Woman rushed to hospital after accidentally poisoning herself during live video
Publish Date

Tuesday, 4 July 2017, 3:00PM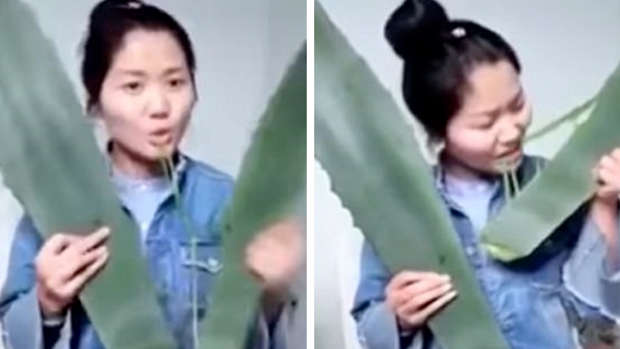 A vlogger from China is said to have accidentally poisoned herself after consuming a plant she had mistaken for aloe vera live on camera.
According to the the 26-year-old, who goes by her surname Zhang, was live streaming her 'Aloe Vera Feast' to discuss the benefits of raw aloe vera.
However, the woman didn't realise she was actually consuming Agave Americana, a poisonous plant from Mexico, according to local reports.
A video of the live show was recorded and is circulating on the internet.
At the beginning of the video, Ms Zhang is heard saying "yum" and "this is great". But soon afterwards, things took a turn and she realised there was a problem.  
"That's bitter ... that's really bitter," she said as the clip progressed. 
The Shanghaiist reported that Ms Zhang was actually consuming Agave Americana, a "poisonous plant from Mexico".
According to Cornell University's College of Agriculture and Life Sciences, the Agave Americana has "several toxic compounds". 
"It contains the incredibly irritating calcium oxylate raphides (microscopic daggers of crystaline oxylate) as well as some other really irritating oils in the sap," they explain.
The aspiring vlogger's mouth then went numb and her throat felt as though it was on "fire". She cut off the live stream and went to the hospital.
In the hospital, she was told by the doctors that she had been eating Agave Americana, not aloe vera. 
The doctors also said that she was lucky to have gone to the hospital quickly enough, otherwise, the consequences could be serious, according to Chinese newspaper Chongging Times.
Despite the drama, Ms Zhang is reported to be in a stable condition now.
The plant Zhang thought she was eating, aloe vera, is commonly consumed both cooked and raw. 
According to Livestrong, the meat inside the leaves and the natural gel are both edible and are often used on salads or in drinks for a "refreshing taste". 
"Aloe is considered safe for oral consumption, but because it has a natural laxative effect, long-term, regular consumption is not advised," they explain.
This article was first published on Daily Mail and is republished here with permission.