Woman's dramatic transformation after dropping 115kg
Publish Date

Wednesday, 14 June 2017, 2:38PM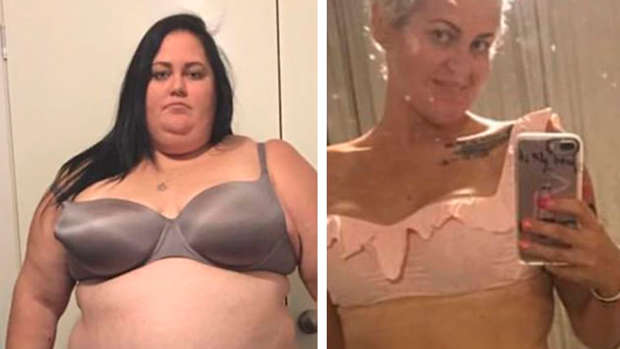 It took a death sentence to shake Elena Goodall from her addiction to fast food.
After years of bingeing on takeout, the Cairns woman has lost a staggering 115kg after being told by her doctor she wouldn't live past 35.

Elena Goodall was diagnosed with type 2 diabetes and severe sleep apnoea when she finally decided to make a big change.
The 29-year-old told Daily Mail Australia "In 2015 I had a check-up and my doctor asked if I knew how much I weighed - I didn't want to know. I knew I was heavy but I didn't weigh myself. The scale said 'error' when I hopped on it because I was too heavy, I had to go on an industrial scale".
Elena is unrecognisable since losing weight. Photo / Facebook


Ms Goodall has been documenting her journey through her Facebook page
Elle's Journey To Good Health
and describes herself as a "typical girly girl with huge ambition".
While it was one of the hardest changes in her life to make, she doesn't regret any of it, due to the quality of life she has gained.

"I couldn't do much; I couldn't even tie my own shoes, or sit on the ground because it was impossible to get up," she said about life prior to her transformation.
"I hadn't always been this way. I used to be a competitive swimmer at a high level and quite fit. I think what happened was, I just got comfortable and it stacked on."
"I found that just one night a week of takeaway turned into 2, then 3, then before you knew it, it was every night (and it wasn't just one large meal either).
"Now I had tried everything to lose weight, but I truly had no motivation AT ALL! My motivation would last (at max) a month, but I was addicted to fast food and I just couldn't stop. I don't know what it was, it was like a drug - It was bad," [sic] she said.
But a visit to the doctor in 2015 changed everything.
Elena weighed 184kg before she decided she needed to make a change. Photos / Facebook

"My doctor had mentioned surgery to me before, but I'm that much of a sook, that I didn't want to go to that extreme," Ms Goodall told followers on Facebook.
"But time passed, my weight issue got worse and worse and I hit rock bottom.
"Things rolled down the hill from there. They even tried to take my driving licence off of me because of the sleep apnoea," she said.
"My oxygen levels in my blood had dropped dangerously and they were worried I would fall asleep at the wheel."
In the end she had no choice but to have gastric sleeve surgery as a final attempt at saving her life.
"The weight loss happened with the training and diet is a huge part of it too. I cut take away food from my diet and prepared my own at home meals," she said.
Ms Goodall recently completed an Ironman challenge that involved a two-kilometre swim, a 90-kilometre bike ride and a 21.1-kilometre run.
"I'm still losing weight but I have an incredible training schedule. I have an Ironman 70.3 then a full Ironman in December. Training is hectic and with that will come weight loss,' she said.
The full Ironman is much more difficult with a 180-kilometre bike ride and 42.2-kilometre run.
"I'm speaking closely with my dietitian and nutritionist as I don't want to lose too much more weight. I still need some fat on me so that's a bit of a challenge," Ms Goodall said.
While preparation for the Ironman is at the top of her priority list, Goodall still remembers the reason she began and is sharing her journey with others.
"I wanted people to know what the journey is like, the good and the bad. I wanted to share my story and to keep myself accountable."
This article was first published on NZ Herald and is republished here with permission.