Brace yourself for more wild weather
Publish Date

Thursday, 9 March 2017, 6:48AM
The wild weather that has battered northern New Zealand - causing slips, evacuations and stock deaths - is set to get worse.
A month's worth of rain fell in parts of Northland, Auckland and the Coromandel yesterday. The downpours created massive floods that closed more than 30 roads in Auckland and cut off parts of Coromandel, including the closure of SH25 between Whangamata and Waihi.
One Clevedon farmer woke to the sound of his sheep drowning as low-lying paddocks flooded. Grant Henson, his wife and four children were rescued by boats.
"I could see a big pile of [sheep] cuddling up on one 3m by 3m little bit of dry land, all piled up like a pile of puppies. I can see some bodies floating around."
Clevedon businessman Jay Bath told the Herald he had lost 18 animals, worth between $18,000 and $20,000, in the floods.
"A friend has rung in tears, saying they can see livestock floating down the river."
He said one farmer had lost a good number of his 2000 sheep as the rising flood waters "wiped out" the paddocks.
Slips isolated the small community of Whiritoa, stranding some in cars, and 10 homes were evacuated in Kaiaua. Another 15 homes were affected by floods and slips in Kawakawa Bay.
In 24 hours more than 280mm of rain poured onto the Kaimai Ranges including 69mm in a single hour about 4am on Wednesday. Whangamata, Waiheke and the Hunua Ranges also received torrential downpours with readings of 260mm, 185mm and 178mm respectively.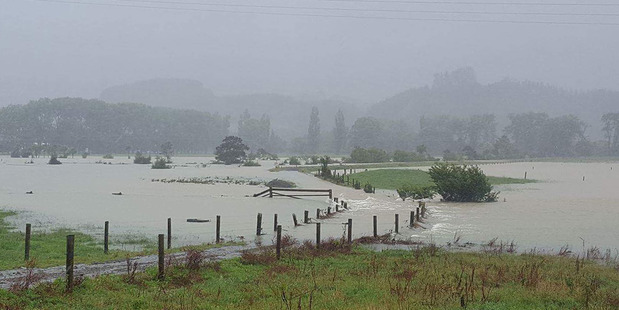 Flooding at Hikuai, between Tairua and Pauanui. Photo / Supplied by Christine Hatton


Niwa called the Whangamata reading a once-in-a-100-year rain event and 60 per cent of a normal autumn rainfall in a single day.
Thames-Coromandel Mayor Sandra Goudie said it was the worst flooding the district has experienced in 10 years. The worst hit was Whangamata, she said, followed by Pauanui, then Whitianga.
"You can't get through to Tairua, you can't get through to Thames and you can't get through to parts of Whitianga either, so essentially the call to stay off the roads is the right one."
Widespread flooding and road closures across the eastern seaboard of the Coromandel and Kaiaua coast north to Thames isolated many communities, including Kaiaua, Whiritoa, Onemana, Opoutere, Whangamata, Pauanui, Tairua and Whitianga.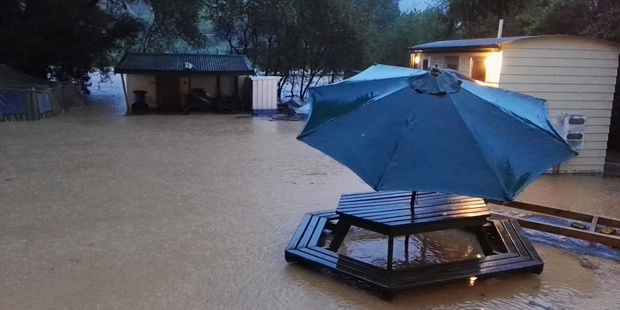 Whiritoa, north of Waihi. Photo / Supplied by Anne Marie Grace
And the wet weather will stick around for a bit longer. Even though it eased overnight it will pick up again from midday, MetService Meteorologist April Clark said.
Coromandel, Auckland and Northland will go back into warning criteria for heavy rains, and there will be a risk of thunderstorms. Rainfall between 10mm to 25mm an hour was possible, Clark said.
"Things will be amping up for those areas again. It's getting worse."
Clark predicted the weather would deteriorate even further tomorrow, when heavy rain and winds move in for the weekend. She thought the weather would clear early next week.
Meanwhile, the South Island is mainly fine.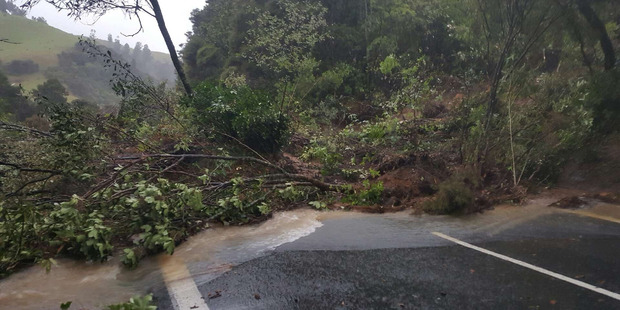 Slips have closed State Highway 25 ( SH25 ) between Whiritoa and Waihi and Whiritoa and Whangamata. Photo / Supplied via NZTA
"It's not the greatest of news for the north. There's definitely more rain to come."
Power outages affected thousands. Vector said 6500 properties had lost power at its peak, and 8000 Powerco customers in and around Whangamata, Whitianga, Thames and Coromandel have been without power at various times . More than 2300 customers on the Chorus network were affected.
Spark customers in Whangamata and Kawakawa Bay also lost coverage.
Major flooding at Hunua Ranges Regional Park saw a once idyllic photo opportunity turned into a raging torrent of muddy water that destroyed paths and vegetation.
A woman was seriously injured after her car collided with a bus south of Auckland on Wednesday morning. The crash happened just after 6am on Kingseat Rd between McKenzie and Batty roads.
The Ritchies bus was carrying nine passengers and a driver to Papakura at the time.
It is understood the woman driving in the opposite direction to the bus collided with it, forcing it off the road into a ditch.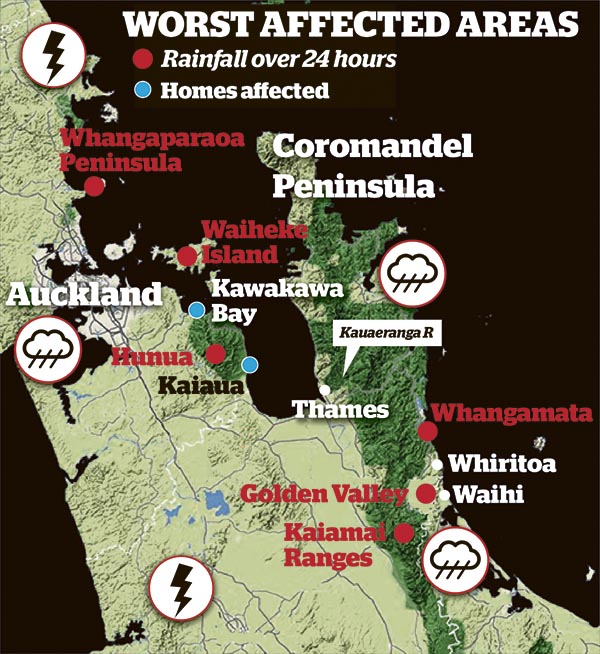 Main centre forecasts
Whangarei: Rain, chance heavy / thundery falls. Easterlies and a high of 24C.
Auckland: Occasional rain, heavy falls possible. Strong easterlies and a high of 22C.
Coromandel: Mostly cloudy. Periods of rain, heavy falls possible. Strong easterlies, gusting 80km/h in exposed places and a high of 22C.
Hamilton: Cloudy with a few showers. Easterlies and a high of 23C.
Tauranga: Cloudy with showers, chance heavy. Southeasterly winds and a high of 23C.
Wellington: Mostly fine, morning cloud. Southeasterlies and a high of 19C.
Christchurch
Mainly fine, cloudy from evening. Northeast developing and a high of 19C.
Dunedin
Fine. Northeasterly developing and a high of 17C.
Queenstown
Fine with light winds and a high of 23C.