BREAKING: Alleged Terrorists Holding Hostages In Sydney Siege
Publish Date

Monday, 15 December 2014, 12:43PM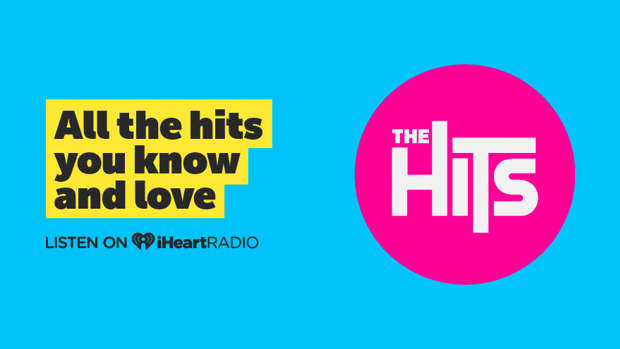 THE SIEGE IS OVER
Australian police have confirmed three people died as a 16-hour siege at the Lindt Chocolat cafe in Sydney drew to an end in a hail of gunfire.

Among the dead was the gunman Iranian Man Haron Monis. Four others were injured.

In a statement police say shots were fired during a confrontation just after 2.10am local time (4.10am NZ time).

A 50-year-old man, thought to be the gunman, was pronounced dead after being taken to hospital.

Another man, aged 34, and a woman, aged 38, were also pronounced dead after being taken to hospital.

NSW Premier Mike Baird appeared at a news conference this morning in Sydney: "I come before you with the heaviest of hearts."

"Unbelievably overnight we have lost some of our own in an attack we would never thought we would see here in our city," he said.
Gunman and hostage dead

Channel Seven reporter Chris Reason says the gunman killed the hostage, but the details of the timeline aren't known.

"We don't know whether the gunmen killed the hostage before the police went in or after."

Chris Reason says something clearly happened to force police to storm the cafe.

He says it was only minutes after a group of hostages escaped that a gun went off inside the cafe .. with armed police almost immediately mobilising.

"It was about a five minute exchange of those gunfire and flash bang stun grenades.

"I'm not experienced enough to tell the difference between the two sounds.

"I could see it happening in front of me, I don't know how many shots were fired but I was counting at least 15 or 20 bangs."
Vision shows three hostage escaping from the Lindt in #MartinPlace #SydneySiege https://t.co/d5EonYzhDG

— The Project (@theprojecttv) December 15, 2014
A flurry of loud bangs erupted just after 4am NZ time as a swarm of heavily armed police stormed a downtown Sydney cafe where a gunman had been holding an unknown number of people hostage for more than 16 hours.

Police swooped into the Lindt Chocolat Cafe shortly after five or six hostages were seen running out of the building.


After the police moved in, one weeping woman was helped out by the officers and at least two other people were wheeled out on stretchers.

The dramatic scene unfolded shortly after the gunman was identified by local media as Iranian-born Man Haron Monis, who is facing charges including sexual assault and accessory to murder in separate cases.

Monis has long been on officials' radar. Last year, he was sentenced to 300 hours of community service for writing offensive letters to families of soldiers killed in Afghanistan. He was later charged with being an accessory to the murder of his ex-wife. Earlier this year, he was charged with the sexual assault of a woman in 2002. He has been out on bail on the charges.

"This is a one-off random individual. It's not a concerted terrorism event or act. It's a damaged goods individual who's done something outrageous," his former lawyer, Manny Conditsis, told Australian Broadcasting Corp.

"His ideology is just so strong and so powerful that it clouds his vision for common sense and objectiveness," Conditsis said.
VIEW THE LIVE FEED HERE
KEY POINTS:
• Siege is now over after police storm building
• Armed offender, now identified as Haron Monis- a self-styled cleric - accused of being an accessory to the murder of his former wife and once notorious for sending poison letters to the family of deceased Diggers.
• Unconfirmed reports two people may have been killed
• Gunshots were heard this morning as a further five or six hostages fled cafe early this morning
• Queensland police say an improvised explosive device may be involved.
 
An Associated Press photographer near the scene heard a loud bang and saw five or six hostages running out of the Lindt Chocolat Cafe in downtown Sydney early this morning.

Five other hostages ran out of the cafe earlier on Monday.

A man in a white shirt came out of the cafe with his arms raised. He dropped to the floor and was searched by police before being whisked away.

Meanwhile, a handful of hostages ran from the scene.

Seconds later, there were volleys of gunshots around the café.

Witnesses said several people had been carried out of the café on stretchers. Initial reports were that four people had been injured in the gun battle.

Sky News is reporting one of its journalists has seen an injured policeman being carried from the café and there is blood coming from his head.
Police and media have named the gunman thought responsible for the Sydney siege as an unstable self-styled Iranian cleric who once sent poison letters to the family of Diggers who died in Afghanistan and has been charged over the murder of his wife.

Man Haron Monis, 49, a self-proclaimed sheik, became infamous after sending offensive letters to the grieving families of seven Australian soldiers killed in Afghanistan between 2007 and 2009.

Last year he was accused of assisting in the brutal killing of his ex-wife but was granted bail along with his current partner, who is accused of her murder.

Monis was charged with being an accessory before and after the fact to the murder of mother-of-two Noleen Hayson Pal.

His current partner, Amirah Droudis, 34, has been charged with the murder after 30-year-old Ms Pal was stabbed multiple times and set alight in a western Sydney unit block.

Recently he was charged with more than 50 counts of indecent and sexual assault from when he was a self-proclaimed "spiritual healer" in Sydney ten years ago.

He was born in Iran but came to Australia in 1996 and has been living in Sydney since.

The revelations made around 3am New Zealand Time came after an extraordinary day when a gunman, now believed to be Monis, seized hostages in a chocolate shop and cafe in central Sydney.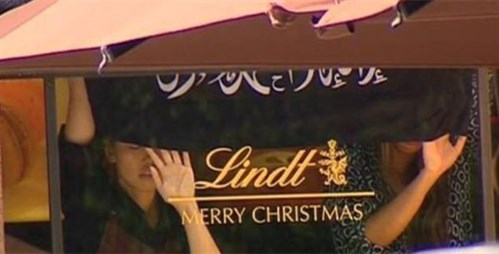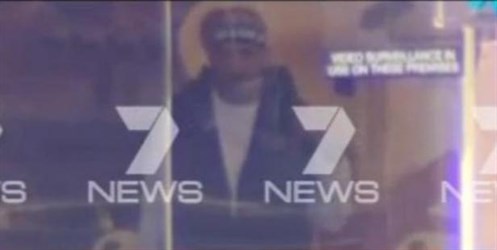 The alleged hostage taker has been seen inside the cafe ordering people about. Photo / 7News
Craig Stoker, a father of four from Eastlakes, told the Daily Telegraph newspaper he bumped into a man wearing a black T-shirt with white writing on it and a headband and carrying a blue bag.

"The bag bumped into me and there was something hard in it. I said 'watch where you are f**king going'.

"He turned round and said 'do you want me to shoot you too?.' I looked into his eyes and they were crazy. I was pretty freaked out." - more on that story here
An Islamic flag - black with white writing on it - has been held up to the glass.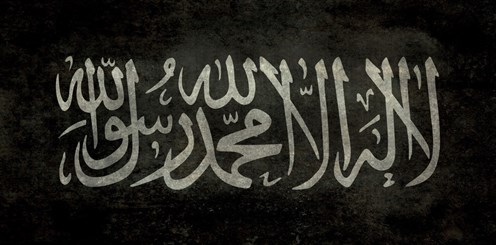 The black and white flag in the Sydney cafe featured the shahada, the statement of Islamic faith reading in Arabic, "There is no god but the God, Muhammad is the messenger of the God."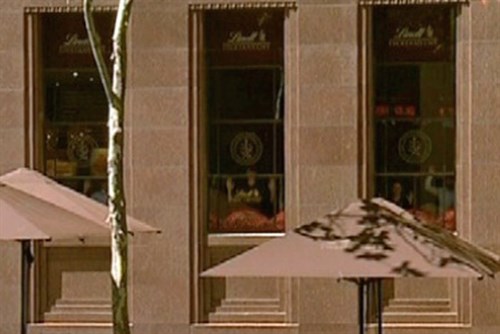 Story Source: nzherald.co.nz
Secondary Source: buzzfeed.com