Coronavirus: Cancelled concerts and events you need to know about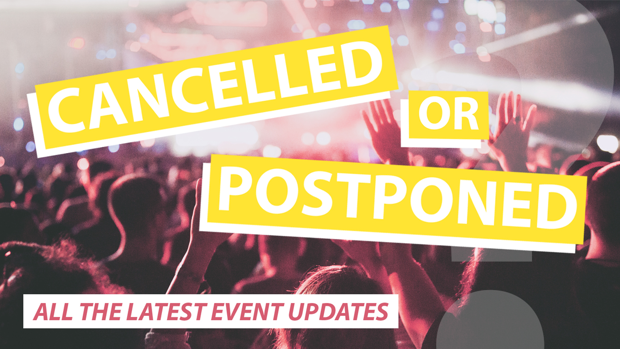 From school camps to sporting events, a slew of public events nationwide has been cancelled amidst the coronavirus outbreak.
Here is a list of events cancelled or postponed across the country.
Cancelled
The Weet-Bix TRYathlon (Palmerston North, Hibiscus Coast, New Plymouth & Bay of Islands)

Cricket: Black Caps Vs Australia T20 Home Series - More info 

HERE
So Pop 2020 Tour - May 2nd & 3rd - More info HERE
The Music and Movies in Parks series
The NZ International Comedy Festival - More info HERE
Postponed
Homegrown Festival - March 21st
Violent Femmes NZ Tour - March 24th & 25th
My Chemical Romance & Jimmy Eat World - March 25th
Lenny Kravitz Tour - March 31st
Alanis Morissette - April 21st
Super Rugby: Suspended for the foreseeable future 
NRL: Vodafone Warriors will not play any games in NZ at this stage
Beervana rescheduled until November 13th & 14th
If you have an event cancelled or postponed that you want to let us know about, flick us a message at The Hits Facebook Page.
FAQ:
What do I do if I won tickets from The Hits?
If the concert is postponed and not cancelled we will contact all winners with new tickets for the revised show date.


Can I get a refund if I purchased a ticket for a show that is now cancelled?
The likely answer to this scenario will be yes – it's best to check with the ticket agent that you purchased your tickets from.


With the show being postponed, I am now hesitant that I won't be able to make the revised date. What do I do?
Wait for an official announcement of the confirmed new date. If you have purchased tickets and can no longer attend the new date, contact the ticket agent directly for instructions.


I purchased flights and/or accommodation for this show that is now postponed/cancelled. What options do I have?
It is best to contact the airline and accommodation provider directly to see what they can do.


I have tickets to a concert or event which I'm not sure is still going ahead. What do I do?
Stay up to date here with all of the announcements for postponed and cancelled gigs as they happen.