TRANSPORT, SERVICES & SCHOOLS
• Power is out in many areas
• Roads damaged heading into Cheviot
• NZTA asking people to delay travel on SH1 between Picton and Christchurch and over the Lewis Pass. A number of section of SH1 and SH7 are closed due to slips and visible damage
• KiwiRail has suspended all services. The North Island Main Trunk line (NIMT) south of Palmerston North and in the South Island have been cancelled until further notice.
• Exams postponed at Massey University's Wellington and Manawatu campus.
• Schools from North Canterbury to Wellington told to stay shut until assessments can be carried out on the buildings. Auckland campus exams still on
• Vodafone conducting a full assessment of mobile and fixed line networks. Power outages have impacted a number of sites and backup generators are being used. There are a small number of sites down, mainly in the Wellington and Christchurch regions.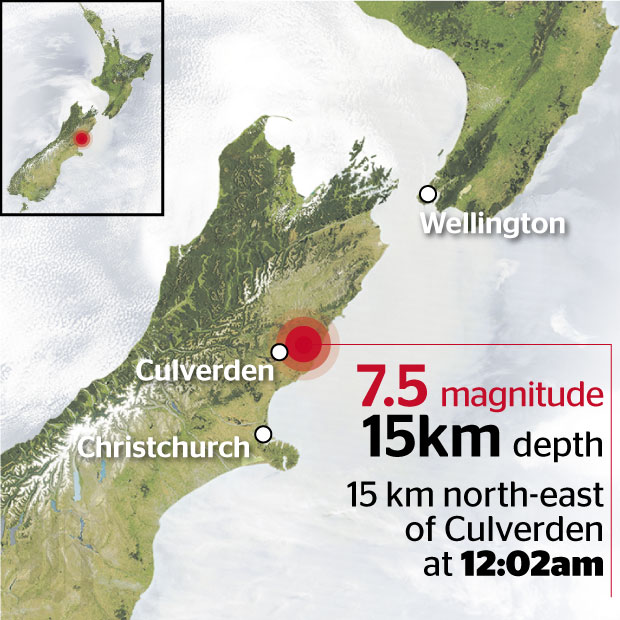 Evacuation centres:
• Christchurch - Linwood College at 85 Aldwins Rd has been set up for overnight accommodation, Akaroa School Hall is also open for people who need somewhere to go in the peninsula
• Marlborough - The following facilities are identified as Emergency Response Centres: Okiwi Bay Fire Station/Community Hall, Rai Valley School, Canvastown Te Hora Marae, Havelock School, Okaramio Community Hall, Renwick Community Hall, Wairau School/Community Hall, Linkwater Community Hall/Fire Station, Picton - Waikawa Marae, Rarangi Community Hall/Fire Station, Riverlands School, Seddon School, Ward School.
• Leithfield School in rural North Canterbury is filling with families seeking refuge
• Wellington - Biz Dojo is open now for people living in the CBD, and Houghton Valley School near the south coast is also open