Father forces teen daughter to cut all her hair off as punishment
Publish Date

Friday, 9 February 2018, 8:00AM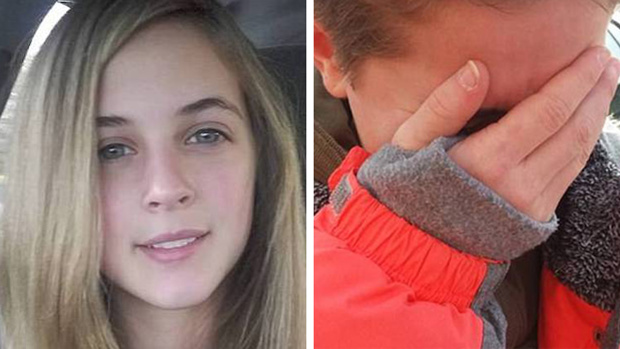 A mother has shared heartbreaking photos of her daughter's hair, saying the girl's father ordered her to have it chopped off after she got highlights for her birthday, the Daily Mail reports.
Christin Johnson, from Fostoria, Ohio, took to Facebook to share the images, writing: "This is what my daughter looked like Sunday when I took her home and the other two pics is what happened today before she was brought to me... All over me having highlights put in her hair for her birthday!"


Kelsey sobbing after the haircut. Photo / Facebook
Two additional photos posted by Christin appear to show her teenage daughter Kelsey with a very short haircut, burying her face in her hand in one of the frames.
Christin said her daughter's father Schaffen Frederick and her stepmother Sarah Murray ordered Kelsey to get her hair cut as punishment, Haskins Police Chief Colby Carroll told Fox8.


Kelsey before her forced haircut. Photo / Facebook
The police department, as well as Wood County Children's services, are now investigating a possible child abuse complaint.
Meanwhile, the father and the stepmother, who are both volunteer firefighters, have been placed on leave pending the results of both investigations, the fire chief said.


The back view of Kelsey's haircut. Photo / Facebook
Christin's original post, which she shared last week, has gone viral and received 33,000 reactions while being shared more than 24,000 times.
"I've been doing this since '92 and I've never had a case I would say that's like this," Carroll said.


Kelsey with her father and stepmother. Photo / Facebook
Facebook users have left dozens of compassionate comments, wishing Kelsey well and telling her she is beautiful regardless of her haircut.
Christin, who created a public Facebook page documenting her daughter's story, later shared another update saying she took Kelsey to pick out a wig.
She also shared photos of the girl posing with a bright smile on her face and a new mane of darker hair.


Kelsey with her mother in her new wig. Photo / Facebook
"I'd like to thank the ladies at Lady Jane's on Glendale in Toledo, Ohio for making my baby feel more like herself!" Christin wrote in a thank-you note to the salon's employees.
"Especially Haylee Ann for taking her to pick out her new hair. She got her smile back because of you ladies and your selfless acts of kindness! We truly appreciate you ladies so much!"
In a comment, Christin explained that Kelsey picked out the wig herself and kept going to that specific model, adding: "She feels a lot better with it and doesn't take it off often."
This article was first published on Daily Mail and is republished here with permission.