Flood warnings as 'river of subtropical air' set to drench New Zealand
Publish Date

Thursday, 18 January 2018, 7:30AM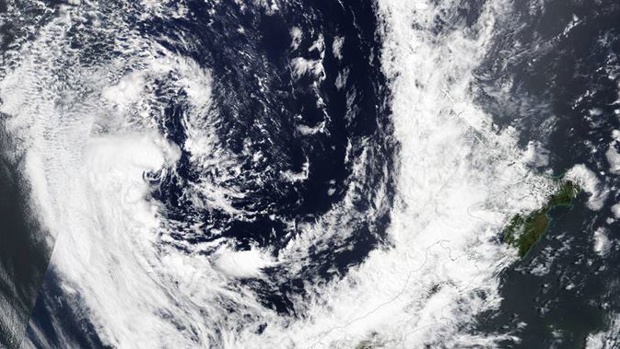 Most in the North Island would do well to pack their wet weather gear today as wide areas will be sodden with rain until early Friday.
"A river of subtropical air" is set to douse the country, bringing particularly heavy rain to the western half of the North Island, WeatherWatch meteorologist Philip Duncan said.
The rain could spell flooding for certain areas, and high river flows.
The unpredictable weather system made it hard to pin down which areas would be hit worst, he said.
"You get weird weather from tropical rain, you may get showers and 100mm in the same area.
"That is flooding criteria and it may be localised within a small area," Duncan said.
The warm front was being fed by airflow from Fiji and New Caledonia, and slowed by a high to the east, which would spare eastern areas like Gisborne.
"It will produce heavy downpours, it is a vein of tropical rain feeding in from the New Caledonia area."
Overnight heavy rain was to douse the upper half of the South Island, before moving to Taranaki and the western side of the North Island.
"The worst of the rain will hit Taranaki in the morning then move to a few places."
By lunch time it would pelt Northland and Auckland down to Manawatu, which was unusual, he said.
The silver lining amid the heavy rain was that strong winds across the country would begin to ease today, after peaking yesterday.
A wet weather warning is in place for Auckland from 6am today to 6am Friday. Between 80mm and 120mm could fall, Metservice Meteorologist Lisa Murray said.
Murray advised everyone to keep an eye of Metservice reports to be best prepared.
Parts of the western ranges of Nelson had 100mm of rain already, Murray said.
Some areas were expecting 200mm to 250mm in the ranges as the front moved over, especially west of Motueka, Murray said.
"It is a slow-moving front and a lot of rainfall [is] associated with it. There are some places that could see 30 to 45 mm heavy rain in an hour," Murray said.
There was also a moderate risk of localised downpours of 20 to 40mm per hour from Northland to North Taranaki, and a generally low risk of thunderstorms in those areas.
Thunderstorms were also possible about Westland, Buller, Nelson, northern Marlborough and from South Taranaki to Wellington during the morning.
A weakening front was forecast to move onto the far south of the South Island this morning, bringing a low risk of thunderstorms to southern Fiordland, Southland, Clutha and Dunedin.
MetService had severe weather warnings in place for Auckland, Northland and Taranaki.
Tomorrow the front would slowly weaken over northern and central parts of the North Island, where northerly rain is expected.
There was moderate confidence of rainfall reaching warning amounts from Waitomo to Northland and Coromandel Peninsula, and lower confidence over remaining central areas from Taranaki to Tongariro and Bay of Plenty.
Duncan said the tropical weather system was unusual and it could see parts of a region doused with 100mm of rain, while nearby areas might only get showers.
"It's a strange line of rain.
"Anything sub-tropical is unpredictable, where it will happen it is hard to know in advance, it bubbles in different areas," Duncan said.
Today's forecast
Whangarei:
Heavy rain. Strong NE. High 24C Low 20C
Auckland:
Heavy rain. High 23C Low 20C
Hamilton:
Rain. Gusty NE. High 22C Low 18C
Napier:
Cloudy and rain. N. High 24C Low 19C
Wellington:
Rain. Strong NE. High 23C Low 18C
Christchurch:
Fine. NE to S. High 30C Low 15C
Dunedin:
Showers then chance of heavy rain and thunderstorms. High 23C Low 15C
This article was first published on NZ Herald and is republished here with permission.