Here's the Traffic Hotspots You Should Avoid This Labour Weekend
Publish Date

Friday, 21 October 2016, 10:22AM
There are a number of traffic hotspots to avoid as thousands flee the cities for rest and relaxation this Labour Weekend.
According to the New Zealand Transport Agency there will be pockets of dense traffic right across the country, stretching from Northland to Central Otago.
The usual suspects north and south of Auckland will be heavy, particularly on State Highway 1 at Takanini where traffic will be chocka southbound between 2pm and 7pm today, and then will be busy between midday and 7pm on Monday as holiday-makers return.
Those heading north from Auckland will hit peak traffic on SH1 between Puhoi and Wellsford from 11.30 this morning through to 7pm.
It will be heavy in the same spot from 11am to 7pm on Monday heading south.
State Highway 2 at Maramarua travelling east will be heavy today from 11am-8pm, and on Saturday from 9am to 10.30am. The worst traffic heading west through the same spot on Monday will be from 11.30am to 3pm.
SH1 at Taupiri and Karapiro will be heavy from 1.30 this afternoon onwards, and again from 11.30 on Monday morning.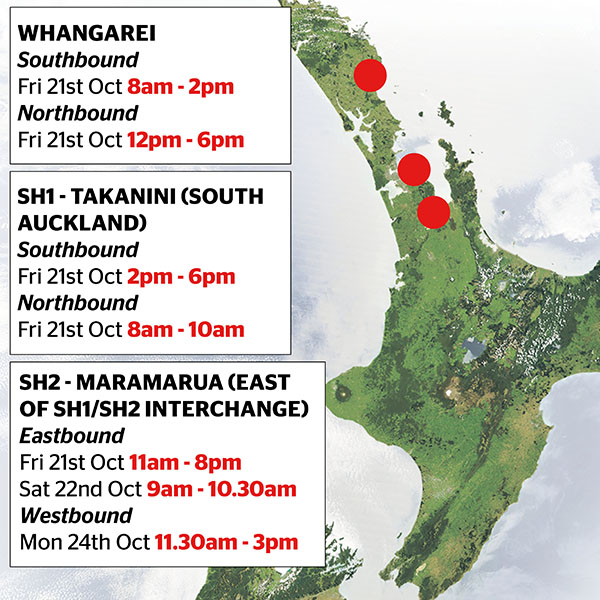 In the Bay of Plenty SH29 at Kaimai and SH2 between Paeroa and Tauranga will be heavy for a short time this evening, from 5.30 to 6.30.
In the central North Island SH1between Waiouru and Taihape will be heaviest for northbound traffic from 12.30pm to 6.30pm today, while SH5 at Te Pohue north of Napier will be heavy west and eastbound on Monday afternoon.
North of Wellington, SH1 at Waikanae will be heaviest northbound from noon today through to 8pm, and again tomorrow from 10am to 5pm.
SH2 at Rimutaka Hill will be heaviest heading northbound for an hour from 11am on Saturday, and again southbound on Monday from 2pm to 5.30pm.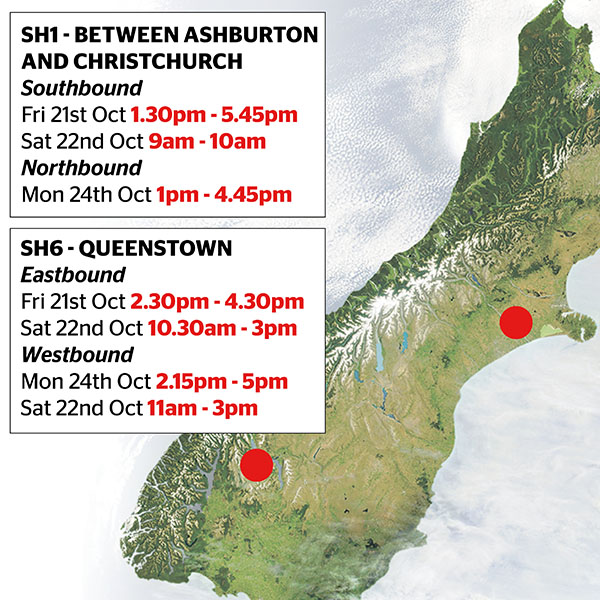 Waipara north of Christchurch will be heavy heading north on SH1 from 4.30 to 6.30 this evening, and again southbound from 1pm to 6pm on Monday.
SH1 will also be heavy south of the garden city between Ashburton and Christchurch heading south from 1.30pm to 5.30pm today, and again tomorrow morning from 9 to 10.
Heading north on Monday it will reach its peak from 1pm to 5.30pm.
In Queenstown, traffic will be worst on State Highway 6 from 2.30 to 4.30 heading east this afternoon, and tomorrow from 11am until 3pm.
At the same spot heading westbound, traffic will be heavy on Friday and Saturday, with the worst coming about lunchtime and lasting until the late afternoon.