Rapper Scribe is wanted by police on drug charges.
Canterbury police have issued an appeal for information about the 38-year-old's whereabouts on their Facebook page today.
The Herald can now reveal that Luafutu was due to appear in the Christchurch District Court on July 25.
He is facing a raft of charges including possession of an offensive weapon, procuring or possessing methamphetamine, possession or use of methamphetamine utensils and two charges of failing to answer district court bail.
The Herald is seeking further detail on the charges.
"Police are currently seeking 38-year-old Malo Ioane Luafutu, who has several warrants to arrest for failing to appear in court and various drug related offences," the Facebook post reads.
"He is also known to go by Jeshua Luafutu, Ioane Luafutu, and Scribe.
"Luafutu has links to both the Canterbury and Wellington areas, and police would like to hear from anyone who may have seen him.
"Luafutu is described as being 188cm tall and of solid build.
"He has a Polynesian design covering his left and right upper arms, as well as his shoulders," police said.
"If you see Luafutu, please do not approach him and contact police immediately on 111."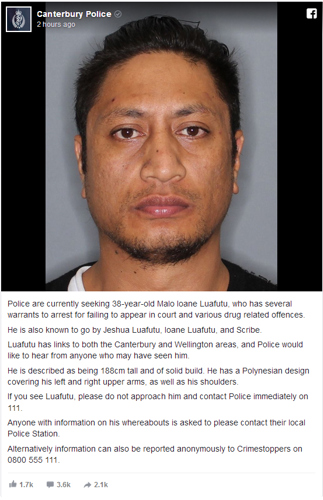 In March, the Herald reported that father-of-four Scribe would spend the next three months in a rehabilitation facility.
He thanked his family and friends for their support when he revealed his decision to enter rehab on Instagram.
"Addiction is a symptom, not a choice for me . . . I've overcome many trials and tribulations by embracing the truth, no matter how humiliating or shameful it may be."
He said he was now embarking on what would be "the greatest and most hardest crusade ever".
"For the next three months I will be in a rehabilitation facility with no contact with the outside world, no phones, no computer," he wrote.
"I will be back a better and stronger me to take this world by storm.
"Thank you to all my supporters, peace and love. Scribe."
His life has been punctuated by addiction, gangs, violence and crime.
"I left school at 15, I was in gangs and a homeless junkie by the age of 17," the five-times platinum-selling artist told the Gisborne Herald last year.
"Not many people know that about me.
The rapper's star began to rise when he released his debut album The Crusader - a nod to the Canterbury rugby team - in 2003.
This article was first published on nzherald.co.nz and is republished here with permission.