Pregnant TVNZ Presenter 'Embarrassing And An Eyesore'
Publish Date

Monday, 18 January 2016, 4:28PM
A TVNZ critic is standing by his comments that pregnant presenters should be taken off air - but he regrets his choice of words.
John Rook sparked an online backlash after penning a letter to TV Guide that called pregnant TVNZ sports presenter Jenny-May Clarkson "embarrassing and an eyesore".
Clarkson, as well as her pregnant co-host Renee Wright, has been backed by viewers and the network, who said it was their choice how long they stay on-air.
The 69-year-old Lower Hutt resident and father-of-three said Clarkson, who is expecting twins, wasn't in a fit state to be presenting the news.
"Who is responsible for allowing a sports reporter in a very pregnant state to remain on screen?" he wrote.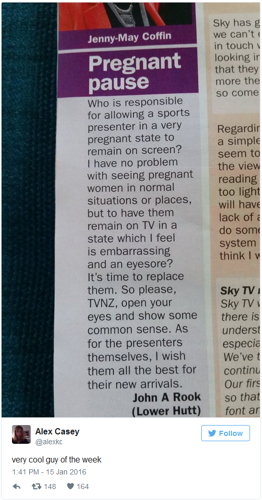 It sparked outrage, with many backing Clarkson and Wright.
In an interview with NZ Herald, Rook said he had no problem with the pregnant female form - he was simply trying to ask what the cut-off point was for pregnant TV presenters being on screen.
"I just wanted to know who was responsible for leaving presenters on air and at what stage of their pregnancy? I'm old fashioned ... When a woman gets to that stage of pregnancy [show] a bit of decency - stand her down."
Rook admitted he'd chosen his words badly and regretted writing the letter.
"I shouldn't have said, 'It looks embarrassing and it's an eyesore' - I wish her well. We've gone through childbirth and it's the best thing on earth. All I wanted to know was, who was responsible at TVNZ and at what stage they should stop presenting on screen?" 
Source- NZ Herald