Teachers' Mega Strike: Which schools are closed and what to do with the kids!
Publish Date

Wednesday, 29 May 2019, 7:40AM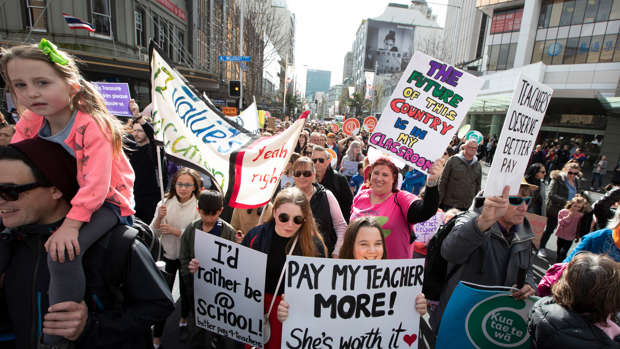 Today Kiwi teachers around the country are taking to the streets to strike.
That means school is out for thousands of children as most schools will close during an historic teacher strike.
It comes after hopes for last-minute talks to avert the teachers' mega-strike crumbled.
The Ministry of Education has posted a list of 1229 of the 2409 state and integrated schools with union members that will close.
CLICK HERE TO CHECK IF YOUR KID'S SCHOOL IS CLOSED TODAY
However, many more schools are also expected to do so but have not notified the ministry, as they are not required to do so.
WHAT TO DO WITH YOUR KIDS
Take them swimming
Stanmore Bay Pool and Leisure Centre, Allan Brewster Leisure Centre and West Wave Pool and Leisure Centre all had holiday programmes on offer for children today.
Head to the library
Wellington libraries are putting on events and activities to keep kids occupied today and Auckland libraries say everyone's welcome.
Learn about protesting
Talk to your kids about why their teachers are striking. Do they agree? Disagree? If they support their teachers, why not head along to a local protest?
Check in with your after-school club
Many after-school clubs like Skids have offered to stay open all day today, if there's enough interest from parents
Bring them to work
If you have an accommodating boss, bring your kids and let them see what you do all day. Just make sure you have plenty of activities for them to do so they don't annoy your colleagues.
Go camping
Send them outside with a tent - or if it's raining, give the kids free rein with some chairs and sheets in the lounge. If you're lucky you may not hear from them till lunchtime.
Homework / study
Sure they'll protest but it's not meant to be a holiday. Use the time to catch up on schoolwork - plenty of teachers will be quietly doing the same after they've finished protesting.
This article was first published on the NZ Herald and is republished here with permission.