Team New Zealand suffers capsize crash during America's Cup race
Publish Date

Wednesday, 7 June 2017, 8:15AM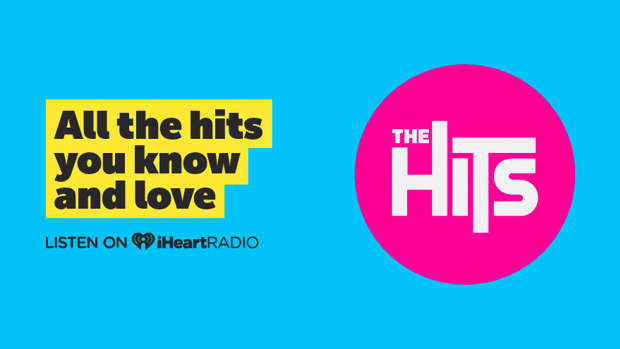 Team New Zealand have come a cropper against Ben Ainslie Racing, capsizing at the start of their fourth race of the America's Cup challenger semifinals off Bermuda.
The Kiwis' mishap capped a day of carnage on the Great Sound, turning too high on their foil, as they chased BAR off the start-line. Most crew members jumped clear, but cyclor Simon van Velthooven, skipper Glenn Ashby and helmsman Peter Burling remained in the boat.
"All guys are accounted for," said Burling. "We are just trying to right the boat."
The race was black-flagged, gifting Sir Ben Ainslie the win and taking the scoreline to 3-1, still in Team NZ's favour.
"I didn't actually see the capsize itself, we'd just come off the start-line," said Ainslie. "Thank God, it sounds like everyone's OK ... that's the most important thing in these situations.
"What an incredible day of racing. In 30 years of racing sailing boats, I've never experienced anything quite like that.
"To be honest, this is the first time we've sailed this boat in this much wind, so we're learning as we go. It's just absolutely full-on, it's mindblowing."
Immediately after the NZ boat went over, Ainslie ordered his support craft to go back and help his opponents.
"We had a chat about it this morning with our support team - we had that discussion that if something goes wrong with the other boat, we'd stop and make sure we give every assistance we can."
The ACC boat was eventually towed to dock, with shore crew facing a long night of work, trying to get back on the water for tomorrow's schedule.
Earlier in the day, the Kiwis almost didn't make the start-line for their opening race, after suffering damage to their wing in the build-up and returning to shore to hurriedly install a replacement part.
In winds threatening the average upper limit of 24 knots, they were on the water, preparing for their third semifinal race against BAR, when they appeared to suffer damage to their wing - a similar issue to the one faced by the British yesterday.
Scheduled for the second race of the day, Emirates Team NZ worked feverishly to install their second wing in time for the start and were assisted, when strong winds caused delays to the Team Japan v Artemis Racing (Sweden) contest.
New Zealand held a 2-0 lead in their first-to-five playoff against BAR, after their rivals broke their wing in yesterday's opening encounter and could not repair it in time to line up for the second.
But conditions were even more treacherous today and racing become just as much about survival as speed.
Team NZ did make the start, but seemed to take a conservative approach, preferring to lurk behind and wait for BAR to make errors.
The British led by about three boat lengths over the start-line and held their advantage until the fourth mark, where they rounded wide and NZ helmsman Peter Burling chose a much tighter line, heading upwind with greater momentum to grab the lead.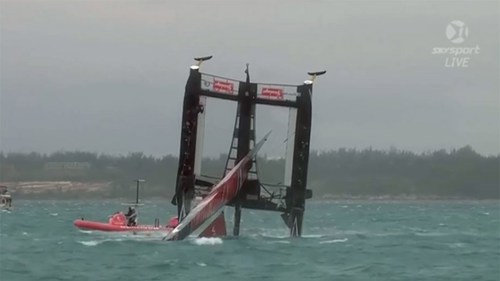 Midway up the fifth leg, the Team NZ craft teetered precariously on its foils, but they maintained poise to lead by nine seconds at the top mark and eventually put more than two minutes on their opponents.
Earlier, Artemis reached a top speed of 47 knots - the fastest of the regatta so far - but also suffered damage and fell well behind their rivals, skippered by former Team NZ helmsman Dean Barker.
After dipping violently down the sixth leg, Sweden skipper Nathan Ottteridge made a decision to simply get around the track, but ultimately did not finish, conceding victory to the Japanese, who were also carrying damage to their ACC boat.
In their second encounter, the Swedes were immediately in trouble, straying way outside the race course at the first mark and then struggling to wipe the penalties incurred.
"This is ridiculous," shouted frustrated Artemis tactician Iain Percy down his onboard microphone, as umpires ordered his boat to slow.
"This is outrageous ... this is going all the way."
Up the fifth leg, Sweden also had to avoid spectator craft that had strayed onto the course, but by then, they were hundreds of metres behind Japan and finished 27 seconds in arears.
"It's a war of attrition out here at the moment," said Barker afterwards. "Hopefully we haven't given too much work to the boys back at the base tonight, but the guys on the boat did an amazing job to get around the track in testing conditions.
"I'm sure no-one is finding it easy out here right now with what's going on, but I'm just really proud of how the guys sailed the boat today."
Today's schedule/results
SF 2 R3: SoftBank Team Japan beat Artemis Racing dnf (Japan 2-1)
SF 1 R3: Emirates Team New Zealand beat Land Rover BAR by two min 10 secs (NZ 3-0)
SF 2 R4: SoftBank Team Japan beat Artemis Racing by 27 secs (Japan 3-1)
SF 1 R4: Land Rover BAR beat Emirates Team New Zealand dnf (NZ 3-1)
This article was first published on NZ Herald and is republished here with permission.