Thai cave rescue: Four more boys rescued overnight
Publish Date

Tuesday, 10 July 2018, 7:14AM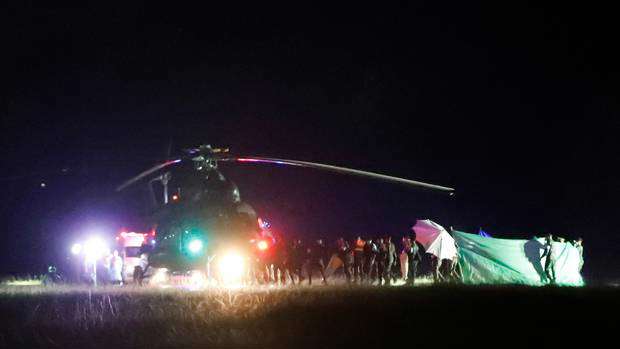 Four more boys were rescued overnight NZ time from the cave complex in northern Thailand where a youth football team became trapped two weeks ago - leaving just four teammates and their football coach stuck underground this morning.
The first of Monday night's rescued Wild Boar FC players, whose identities have not yet been confirmed, was seen being carried out on a stretcher shortly about 4.30pm local time (9.30pm Monday NZ time), a few hours after the mission entered its second day.
Boys number six and seven were brought out a little over an hour later, with boy number eight spotted being taken out shortly afterwards.
They were all carried out on stretchers and into ambulances before being airlifted to the Chiang Rai Pranukroh Hospital, where the four players rescued on Sunday are recovering. Those four boys were hungry but in good spirits, officials said on Monday. They are in isolation as their health continues to be closely monitored.
Volunteers outside the cave in Chiang Rai cheered as news of the first boy rescued on Monday emerged.
The 12 youth team players and their 25-year-old coach went missing on June 23, having become trapped inside the Tham Luang Nang Non cave in the northern Chiang Rai region by rising flood water.
This article was first published at nzherald.co.nz and was republished here with permission.