The woman swept away in a South Island river was a member of the Gloriavale community
Publish Date

Friday, 9 November 2018, 9:17AM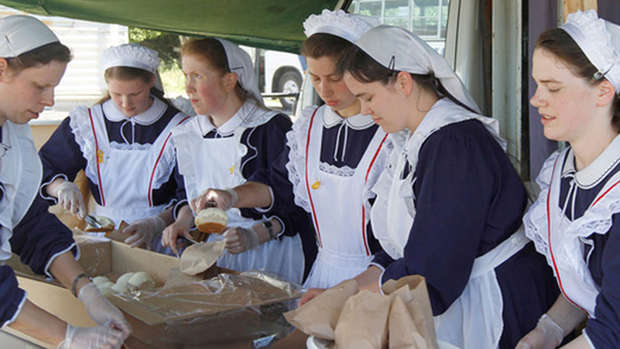 A mother of 11 from the Glorivale community has died after being swept away in a swollen West Coast river.
A source told the Herald that the woman, Rejoice Steadfast, had been watching the raging Haupiri River yesterday with family members when the bank collapsed and she fell in the water.
"It is an absolute tragedy," they said.
Rejoice Steadfast is the daughter-in-law of Gloriavale secretary and treasurer Fervent Steadfast.
The Haupiri River flows by Gloriavale, a remote Christian community, in the West Coast's Grey District.
The area was hammered with heavy rain yesterday, with some weather stations in the ranges recording more than half a metre of rain, causing widespread flooding and slips.
Police this morning said a Search and Rescue team had recovered her body at 8am.
Her death has been referred to the coroner.
A Gloriavale spokeswoman declined to comment this morning.
Elsewhere on the West Coast a bridge has collapsed and dozens of students are trapped as a wicked storm continues to pelt the region with heavy rain.
Parts of the West Coast received over half a metre of rain in the past 24 hours, with more rain and even snow on the way in the South Island.
Civil Defence remains on alert today following the storm.
A severe weather warning remained in place for parts of south and central New Zealand today as a front moved across the South Island, reaching the lower North Island this morning.
MetService meteorologist Nick Zachar said some weather stations on the West Coast had recorded over half a metre of rain in the past 24 hours.
Ivory Glacier on the West Coast topped the charts at 550mm, while many other areas in the ranges received similar amounts. That is more rain than Auckland has had in the past four months.
While the weather was on an easing trend there was still plenty to come.
"We are still seeing quite a bit of rain about Hokitika and south of there, some stations on the West Coast have had 40mm an hour, and heavy snow is starting to fall in the Canterbury high country. Mt Cook Village is starting to see some decent snowfall," Zachar said."
"This is all adding to river levels and increasing the risk of flooding and slips."
READ MORE:
• This is what the bi-annual Gloriavale concert is ACTUALLY like ...
• Former Gloriavale member Aaron B Courage speaks out about controversial community
Road snow warnings were in place for many South Island alpine passes this morning. Arthur's Pass (SH73) could see as much as 12cm of snow, Porters Pass (SH73) 15cm, Lindis Pass (SH8) 8cm and the Crown Range Rd a light dusting.
There was also a moderate risk of elevated thunderstorms over northern Westland, Buller and western Nelson in the early morning, and a low risk over the remainder of Nelson.
As the front moved north it would be replaced by a cool southerly change. Christchurch would see its high drop from 29C yesterday to just 11C today. Kaikoura, which topped the country yesterday on 31C, would drop to a cool 14C.
The cold front would move over the North Island from midday Friday and clear the island by Saturday afternoon.
The rain over the North Island would mostly fall from late Friday to Saturday morning, followed by a few showers lingering into the afternoon.
Anyone attending the Taylor Swift concert in Auckland Friday evening was advised to keep an eye on the forecast and consider taking a poncho or raincoat.
On Sunday, showers would pepper the North Island where it would be cool, while a fair amount of sunshine over the South Island would allow the temperatures to recover to the high teens.
Today's weather
Mostly cloudy, chance drizzle. Rain developing at night as northerlies turn southwest. 23C high, 13C overnight.
Mostly cloudy, chance drizzle. Rain developing late evening as northerlies turn southwest. 22C high, 12C overnight.
Mostly cloudy, chance drizzle. Rain developing evening, clearing overnight. Northerlies. 22C high, 9C overnight.
Cloudy, and possible drizzle. A period of rain at night. Northerlies dying out at night. 20C high, 12C overnight.
New Plymouth Drizzle at times, then rain developing afternoon as northerly turns southwest. Rain clearing overnight. 18C high, 7C overnight.

Napier Cloud increasing, few spots of morning rain. Rain developing evening and northerlies turning southerly. 27C high, 12C overnight.
Whanganui Cloud and chance shower. Rain developing afternoon and northwesterly turning southerly. Rain clearing at night. 23C high, 10C overnight.

Wellington Drizzle turning to rain this afternoon, then easing at night. Strong northerlies turning southerly evening. 18C high, 9C overnight.

Nelson Rain, chance heavy, clearing afternoon as strong northerlies change southwesterly. 18C high, 8C overnight.
Christchurch Rain, easing to a shower or two this evening but remaining cloudy. Southeasterlies dying out late. 11C high, 5C overnight.

Dunedin Fine spells. A few showers, mainly in the afternoon. Winds mainly light. 11C high, 7C overnight.
This article was first published on nzherald.co.nz and is republished here with permission.