Emergency services in Tauranga have responded to multiple calls about a tornado.
The New Zealand Herald understands up to 15 roofs have been damaged or lifted off after the area at Mount Maunganui was hit at 8.45pm.
Firefighters responded to numerous calls about roofs being ripped of houses around Lodge Ave and Links Ave.
Mount Maunganui Intermediate is closed after announcing that it had suffered "considerable damage".
"As there are health and safety hazards, the school will be closed on Friday," said Principal Lisa Morresey.
A Fire Service northern communications spokeswoman confirmed the destruction appeared to have been caused by a tornado.
Power was also cut to houses in Omanu about 8.30pm.
Traffic lights are out and the barrier arms at the rail crossing on Matapihi Rd are locked down.
Senior Sergeant Courtney Brunt said several power lines had been brought down, with reports of roofs being damaged.
"Police ask that people refrain from travelling in the area unless absolutely necessary."
Powerco's website said the fault was under inspection and should have been fixed by midnight.
A tree was split in half and debris was strewn over the road opposite the Links Ave Reserve.
Links Ave resident Adelle Fleming said a 3m by 5m garden shed had landed on her fence.
"It's been absolutely trashed. It's a mess," she said.
"It's caved in my fence and I can't get out of my driveway.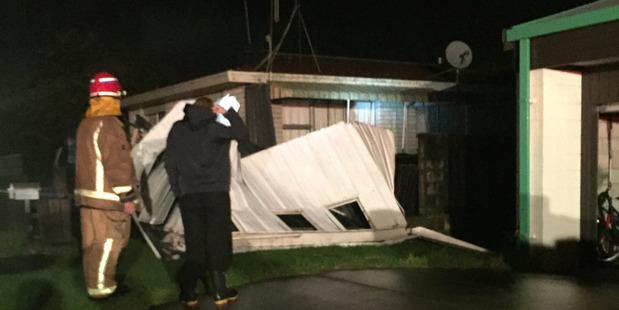 A garden shed post-tornado in Mt Maunganui. Photo courtesy Bay of Plenty Times.
"My neighbours across the road - one of the streetlights has landed on their roof. My next-door neighbour has lost some of her roof and their windows were smashed in."
There were bits of corrugated iron strewn across her yard and a metal deck umbrella-holder had landed on her deck.
"I was reading a story to my daughter in bed. I just heard a massive gust and I could feel it on the back of my neck because the window's right there.
"I thought the window was going to break and the roof felt like it was going to lift off. Then the power went off. It was within a matter of 20 seconds.
"It's scary for the kids."
'It felt like the roof was going to lift off'
"I dropped to my knees - it felt like the roof was going to lift off."
That was how Erika Mitchell reacted as a tornado wreaked "carnage" in her street and ripped through her Waitui Grove property, knocking down a 4m-5m section of a 1.5m-high wooden trellis fence and ripping out her letterbox tonight.
Mrs Mitchell, wife of Tauranga New Zealand First list MP Clayton Mitchell, said the tornado "came as a bit of a surprise to be honest" just after 8.30pm and "bellowed through" after bad weather had been building for about an hour.
The door and upper level of their home shook and she discovered the damaged fence and letterbox outside. Outdoor furniture was blown around.
Her 9-year-old daughter, Jazmin, came running from her room but her two sons slept through. Thankfully, no one was hurt.
Neighbours were also hit with windows blown out and fences blown down - and one neighbour's caravan was blown out into the middle of the road.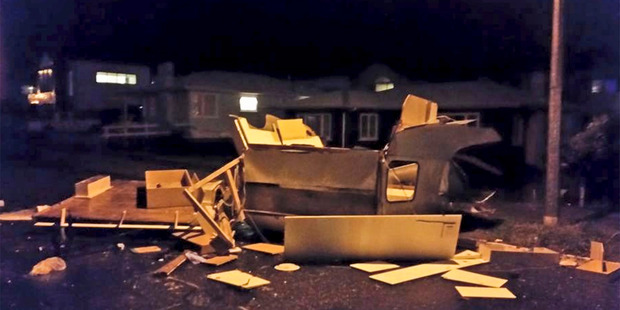 The remains of a caravan lies in Hart St Mt Maunganui after a tornado hit. Picture supplied via Facebook
"Half the street were out within minutes, checking on each other," she said.
"That's the nice thing, the community and everyone checking on each other."
Trees and branches were down at nearby Waitui Park and a tree had come down on a powerbox in the street.
Mrs Mitchell said her main concern was that no one was hurt or suffered any extensive damage.
The tornado lifted roofs, smashed windows and hurled a garden shed across properties.
'A big gust of wind, then a couple of cracks and I just grabbed the kids'
On Lodge Ave, resident Lane Wright last night watched on as fire crews cut apart the mangled remains of his roof - blown on to a driveway metres from his home.
Mr Wright said the rain was torrential when he heard "a big gust of wind, then a couple of cracks and I just grabbed the kids".
He and his twins Jordan and Brooke, 3, and daughter Lara, 4, escaped unharmed as his home's roof was ripped off.
"I just knew it was gone but I was more worried about the kids than anything."
When he ran out on to the street, he found a mess - a trampoline was wrapped around a lightpole and the road was covered in debris Mr Wright, whose house is insured, planned to stay with relatives in Tauranga.
Motion of an earthquake, sound of a 'freight train'
Other residents described the motion of an earthquake, and the sound "of a freight train".
One neighbour, whose ute sustained broken windows, said brand new AstroTurf at nearby Mt Maunganui Intermediate had been ripped up by the tornado.
Neighbour Greg Anderson was watching TV when he heard a heavy bang, before the glass in his ranchslider broke.
"I opened up the blinds and saw the rest of the devastation - our car port has been pushed into our house and there's a part of someone else's roof through ours."
He estimated it took between 10 and 20 seconds to blow through.
Across the street, Alan Ruddell was shaken by "a hell of a noise - it was like a train coming through, it really was a thundery noise."
His home escaped damage but a tall tree, just metres away, could be seen lurching precariously with broken limbs.
Another neighbour, Robert Gillespie, said the sound of the twister itself was drowned out by the thunderous downpour.
"Then the ground shook, and the house just went round and round in a circular motion, just like an earthquake."
Damage to ASB Baypark
Tauranga City Council chief executive Garry Poole said what appeared to be a tornado had caused "some damage" to ASB Baypark, which was managed by Bay Venues Ltd on behalf of the council.
"Our people are there [and] they've cleaned up the debris that's been scattered across the road," he said.
"Tomorrow we'll be doing an assessment of what damage there is and what impact it has on the functioning of the stadium."
Bay Venues chief executive Gary Dawson, speaking from ASB Baypark tonight, said:
"When the tornado came through it's taken the roof off about three sections at the eastern end of this speedway stadium.
"Three bays on a stadium...so I guess there is quite a bit of damage, but not massive. It's just roof iron that's come off, really, and the roof structure itself. But it's only three bays - I guess it's about 10 percent of the roof [that] has come off, so not massive really, when you look at the total stadium."
"There's a lot of corrugated iron scattered about - big sheets of iron that we've got to sort out."
"We've got nothing scheduled in the speedway stadium itself until July, August...until the ITM rugby season. So we'll still be able to operate easily, no problem."
MetService severe weather forecaster Erick Brenstrum said they had not picked up any tornado activity in that area tonight, but he was "not surprised" to hear the reports.
"The sort of weather system that's continuing to cross the area is the sort that is conducive to squally rain showers, some of which may have small tornadoes," Mr Brenstrum said.
Tornado in Far North
Earlier, a reported tornado ripped the roof off a house and damaged at least three more properties at Coopers Beach in the Far North.
The Mangonui Fire Brigade responded to calls about the damage on State Highway 10 about 2.30pm today.
Locals reported hearing a loud noise similar to thunder and described it as a "mini-tornado".
A roof was reportedly peeled off a two-story house and smashed through the ranch slider of the property behind it.
A man who lives next door said it made a "horrendous" noise and smashed into the side of his house, destroying his glass doors.
MetService's Mr Brenstrum said it could have either been a tornado or very strong wind gust.
His colleague John Law said the radars had not picked up any tornado activity in that area, but said it was "not out of the question".
There is a weather watch in place for Northland overnight for periods of heavy rain and thunder.
 - NZ Herald