Wellington parents are being warned to watch out for Blister beetles
Publish Date

Friday, 19 January 2018, 1:42PM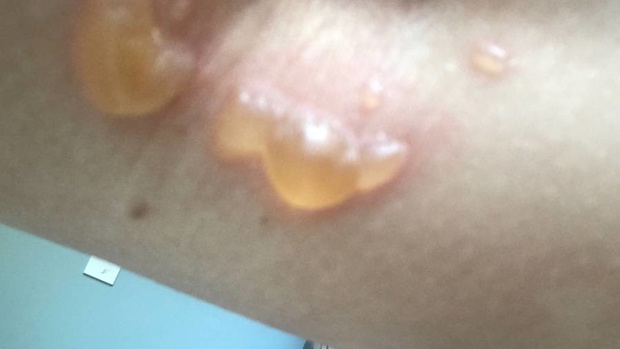 Wellingtonians are blaming beetles for mysterious blisters that have been popping up on their bodies.
Mornington mum Jenna Limmer told the Herald how her son became covered in blisters and large welts after a spotted lax beetle crawled into his bed earlier this week.
The 5-year-old had 16 blisters across his body when he woke up on Tuesday morning, and while doctors couldn't say what caused them, Limmer believes it happened when her son rolled on the beetle in his sleep.

Photo / Supplied
Other people have since revealed they too have been waking up and finding blisters on their body, and the bug dead in their sheets.
Jesse Hutton woke up a few nights ago because his lower back was "burning".
"When I got out of bed in the morning I noticed a squashed bug where I was sleeping and lines of liquid from where his blood and guts were, I assume.
"Then when I stood up my partner told me I had eight blisters on my lower back. So I had been rolling all over the bug in my sleep."
The Johnsonville man said his back is now fine, but there are some red marks left behind.
Hutton gets about two of the bugs in his room every night but this is the first time one has given him blisters.
Another woman said her 30-year-old daughter lives in Lyall Bay and woke up with the blisters on the back of her knee.

Photo / Supplied
"She went to After Hours Medical and they had not seen anything like it before."
The originally thought the blisters might have been caused by a white tail spider, but after seeing the Herald story believed it was caused by the beetle.
Karori man Jamie Trafford woke up in the morning about a week ago and noticed "this weird blister on my arm".
He remembered flicking a bug off him in the middle of the night.
Meanwhile Porirua woman Nicki said she had suffered the blisters a few times, but not as badly as others.
She had definitely felt the "shock" and "pain" of the beetles on her body.
"The most recent one was waking up yesterday morning, but the beetles have been around all summer," she said.
"[It] feels like a pinch or a sting, easy to mistake it for something sharp and not think anything of it until the bump [or] blister starts to show."
She sometimes wakes up with clusters of blisters. It has happened three of four times this summer.
Roseanna McFarlane hasn't seen the beetles for some time, but remembers waking up once with a few "red patches of missing skin".
She found the squashed beetle in her bed.
"I would describe the wound like a carpet burn or something."
Ruud "The Bugman" Kleinpaste said the beetles release a chemical called cantharidin as a defence mechanism, which acts as a blistering agent.
The beetles are usually found in rotting wood and in forest areas, he said.

Photo / Supplied
"New Zealand, you don't need to start wearing shoes on your feet just because there's a couple of bugs around."
The bugs are found in Nelson and north, and normally come out in summer.
Kleinpaste did not think there were any more around than usual.
Only the males have the cantharidin, but during mating they give some of it to the females so they can wrap their eggs in it for protection.
This article was first published on nzherald.co.nz and is republished here with permission.